What to Expect…Documenting the Process of Working with an Architect
This is the second post in our ongoing series What to Expect from Your Architect.
Our first post covered what goes on behind-the-scenes in our office as we begin a new project. Today's post will give you a better understanding of how we begin to work with the client during this Pre-Design Phase.
The subject of Project Planning may seem a bit more cut and dried than creative, but we've learned that in order to maintain a well controlled project, we need to establish an organized method of work… Architects must always have a plan!
For each new project we create a virtual Project Folder on our Google Drive which is "shared" with our client. The documents placed in this folder are private, secure and accessible ONLY to our office and our client. Our office does prepare a project binder of basic information to present during the pre-design meeting, but we find the shared Project Folder is a quick and easy means of communication. Architect and client can access the same documents at the same time and it literally puts us on the same page as our clients.
The Project Folder is organized with subfolders for each phase of the project, much like a filing system on a computer. Our infographic below illustrates how the information is organized in the Project Folder. For example, during the Pre-Design Phase we establish project requirements and goals, define programming and budget, and determine the scope of the project. So subfolder Pre-Design will include documents such as the Program Statement, the Budget Statement, a Zoning Analysis and an Existing Conditions Survey. (For more on Basic Architectural Services see Working with an Architect: Making Sense of Services and Fees.)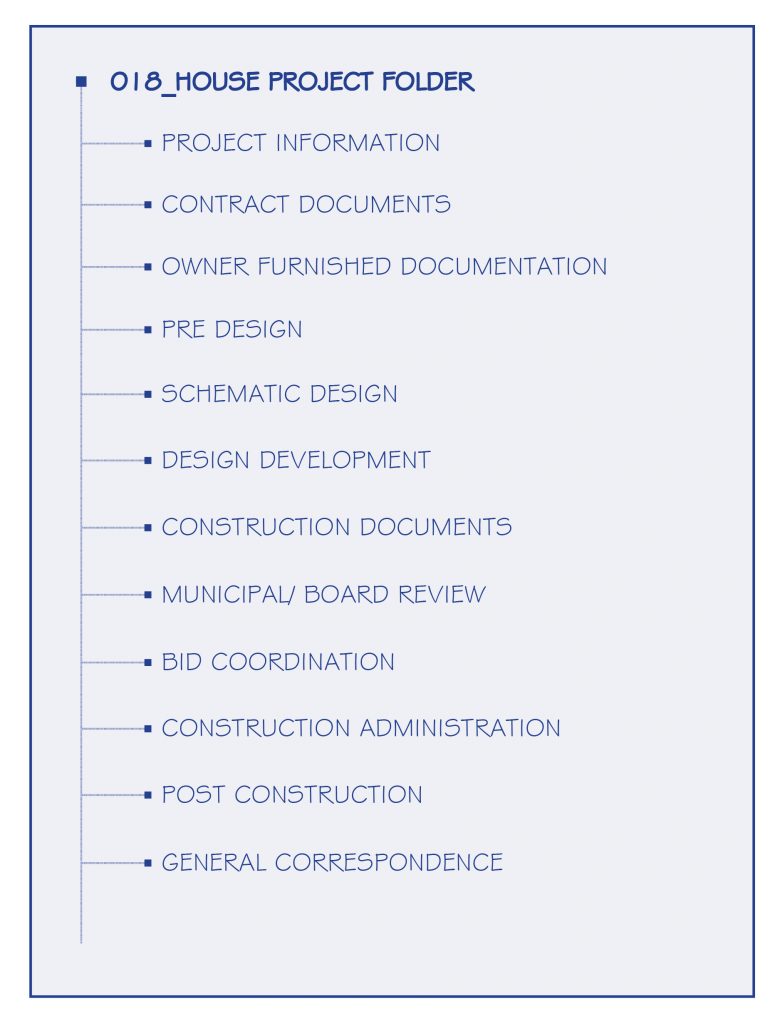 For the project we are documenting in this post – we'll call it the 018_House – we recently received most of the Additional Items Needed from the client. Our next step is to complete a Zoning Analysis and a thorough review of the Architectural Guidelines and Covenants and Restrictions for the property. We have a site visit and programming meeting scheduled for the beginning of June. During this meeting we will go through the Pre-Design Questionnaire (PDQ) and our clients' inspirational images as well as discuss the project schedule and budget. Since this project is not local, we will need to be well prepared in advance. Our goals for that meeting are to get to know the family, get to know the location and discuss all of their dreams for their new home.