What's it like to work with an architect to design your home? Well, we think it should be a lot of fun!
What to Expect…Documenting the Process of Working with an Architect: This is part of an ongoing series of posts documenting the process of the 018House, a new contemporary residential project we began in April, as it progresses so that we can dive a little deeper into what to expect when Working with an Architect.
Design Diagrams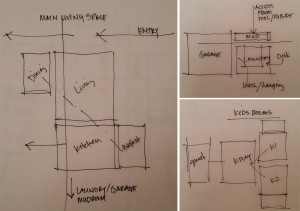 Or "bubble diagrams" as we like to call them… In our last post about What to Expect from Your Architect we described meeting with our clients to go through their PDQ and idea images of likes and dislikes. We send those questions and requests for images to our clients before meeting with them to discuss design so that we can get them thinking about their likes, dislikes, dreams and desires for their new home. We believe that our best projects are the ones in which the client is very involved in the entire process and those questions are a great way to get the conversation going.
Beyond merely establishing a program, we like to talk with our clients about how they live:
as I mentioned last post, playing in this family often includes being chased by 2 giant canines; the pitter-patter of children's feet is not something my clients love to hear over their living room (as is the case in their current home); visual access from the kitchen to the outside play area and pool is a high priority; and they usually invite their entire family over for Thanksgiving dinner and would like the "kids table" to not be completely isolated from the "adults table."
It's vignettes like these that inform the architect how to lay out space and program. Through our conversations we create sketch diagrams showing relationships and adjacencies (and non-adjacencies in some cases.) These "bubble diagrams" are guidelines we use to begin organizing the plan for our clients' new home.
Site Considerations
In addition to determining WHAT to design, we must also consider HOW your home will be positioned on the site. The overall design depends not only on the scope of the project but also how your home fits in the context of the surrounding area. Characteristics such as views, sun orientation and shading, neighbors and privacy, slope and topography, site access, zoning regulations and architectural guidelines must be considered.
In the case of the 018House the site is across the street from a beautiful lake so it is important that the house is designed to take advantage of the views through the trees. Our client is an active family who loves to play outdoors and maintaining privacy from the neighboring properties will also be a large influence on our design.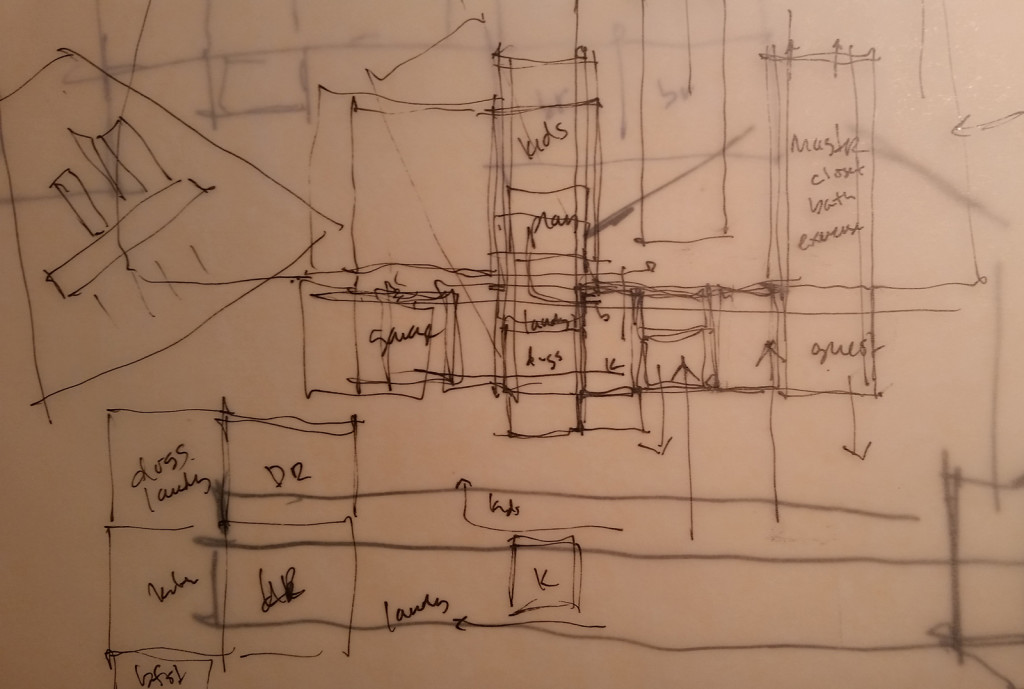 Design
After meeting with our clients – this time for two full days- we gather all of the notes, sketches, answered questions, images, adjectives, and ideas and sort them out. Then we compile the program notes into a document which lists the room names and sizes to get an idea of the overall square footage of the house. From the "bubble" diagrams, sketches and clients' stories, we begin creating schemes for their home which include floor plans and exterior elevations.
Though many programmatic relationships are set and some guidelines will be the same, for the 018House we will present 3 very different schemes so that we can keep the conversation going, especially on a project like this. My clients know what things are important to them in the home, what they like and don't like, but they don't have an overall vision of what the house will ultimately look like. They are "leaving that up to the architect to come up with some ideas."…
Two of my favorites in being an architect…problem solving and working with clients to fulfill their dreams!