New House, New Photos:
We are very proud and excited to share the now complete "story" of our Lantern House project with you!
…Waiting for the weather to cooperate for these final photographs has been an exercise in patience, but, as we all know… Good things come to those who wait!  And we think these photos are TOTALLY worth the wait! Thanks for your cheers through our progress and highlights along the way.
Today we're sharing the first few photos from our photographer, Brad Feinknopf. The rest of his amazing images (including Lauren Davis's brilliant work with the drone) will follow soon so check back here in a week or so for more!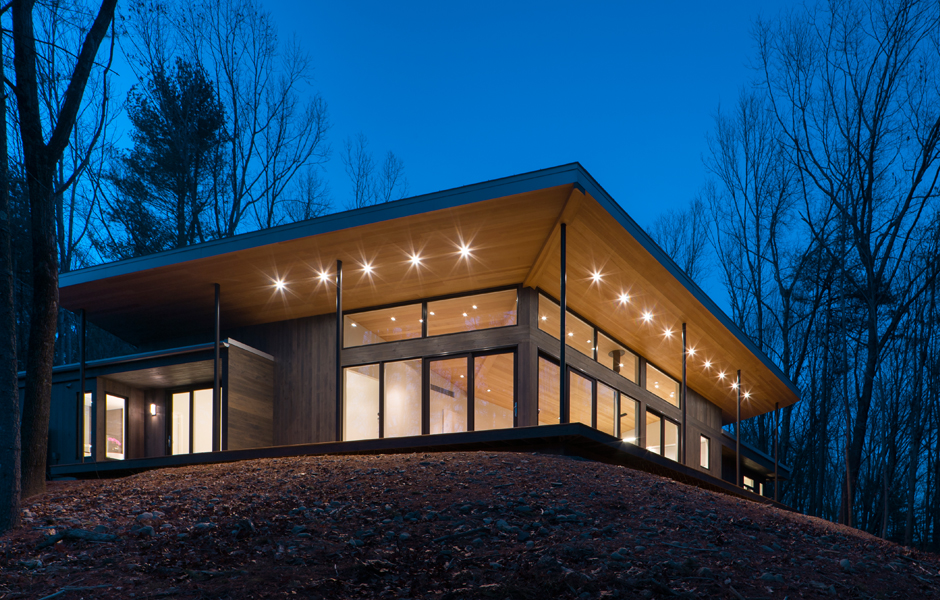 Private Residence
Kerhonkson, NY
Completed Fall 2015
Perched at the top of a wooded knoll in the Hudson Valley, the Lantern Ridge House accentuates mountain views while camouflaging itself in the densely forested environment. At night, the typically obscured house becomes a beacon for passing cars and a guiding light for our homeward-bound clients. The home is focused on a single gathering space through which the 2,200 SF structure becomes at once intimate and expansive, private and public. Oriented to face both sunrise and sunset, this hinge point is created by the convergence of two private wings that contain separated accommodations for our clients and their guests. A continuous wood ceiling shelters an exterior deck and the glass façade, which focuses expansive views, connects the clients with the immediate natural environment, and provides a consistently sunlit space.
The primary goal of the project was to create a home that responds to and enhances its natural surroundings while catering to the flexible needs of a client that craves both private reflection and social engagement.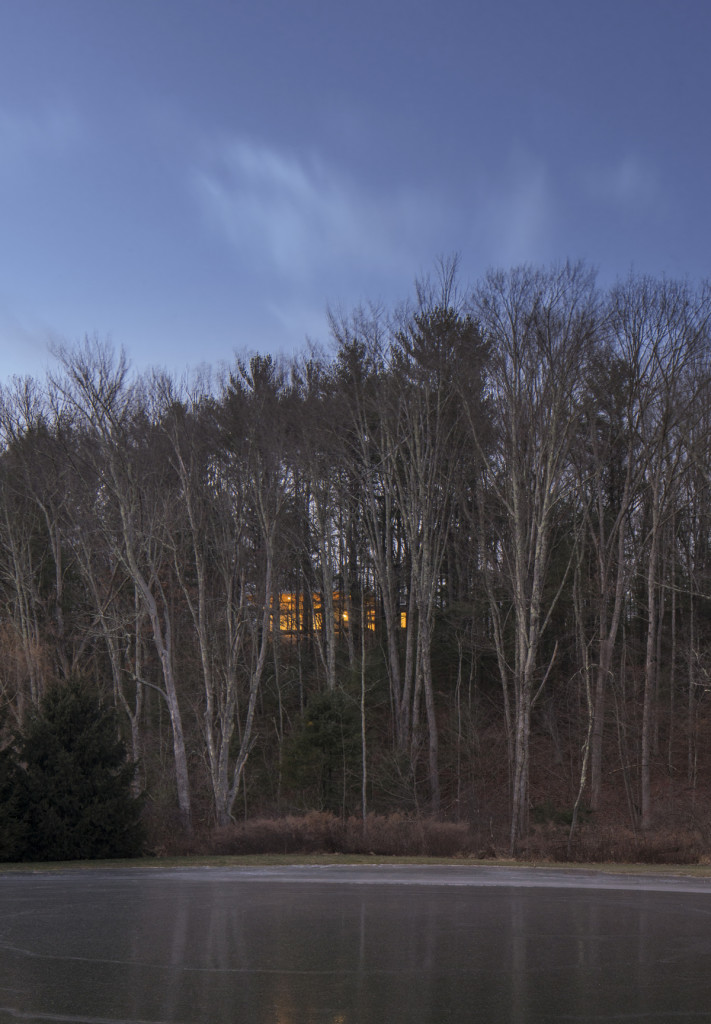 The house can be glimpsed glowing through the trees during the approach, becoming a beacon for passing cars.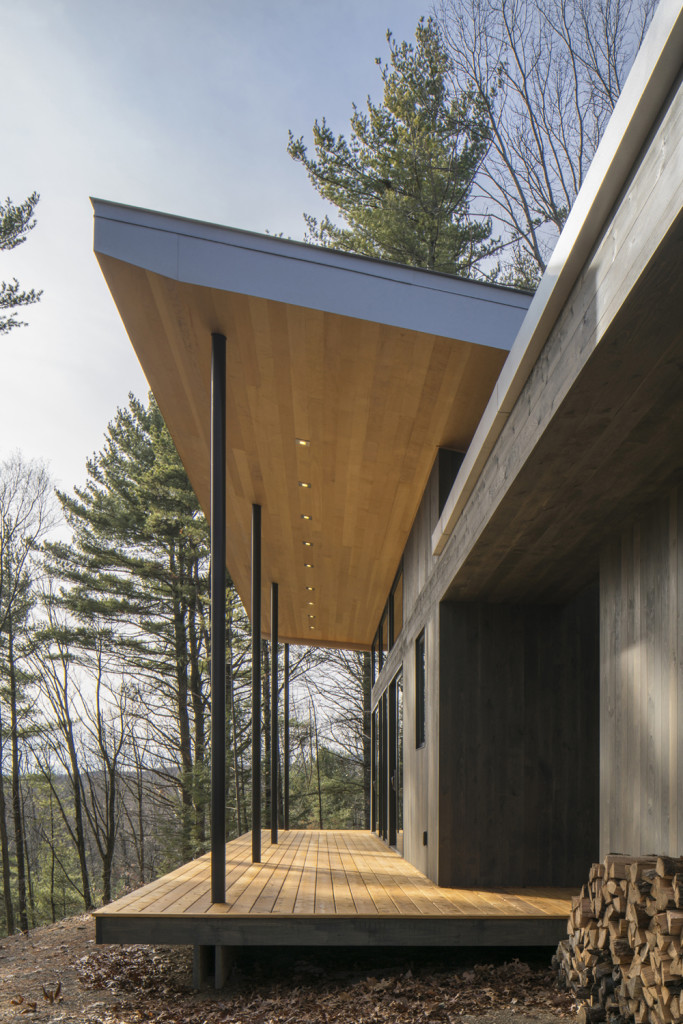 The expansive wrap-around deck floats above the ridge line and mirrors the strong angled roof.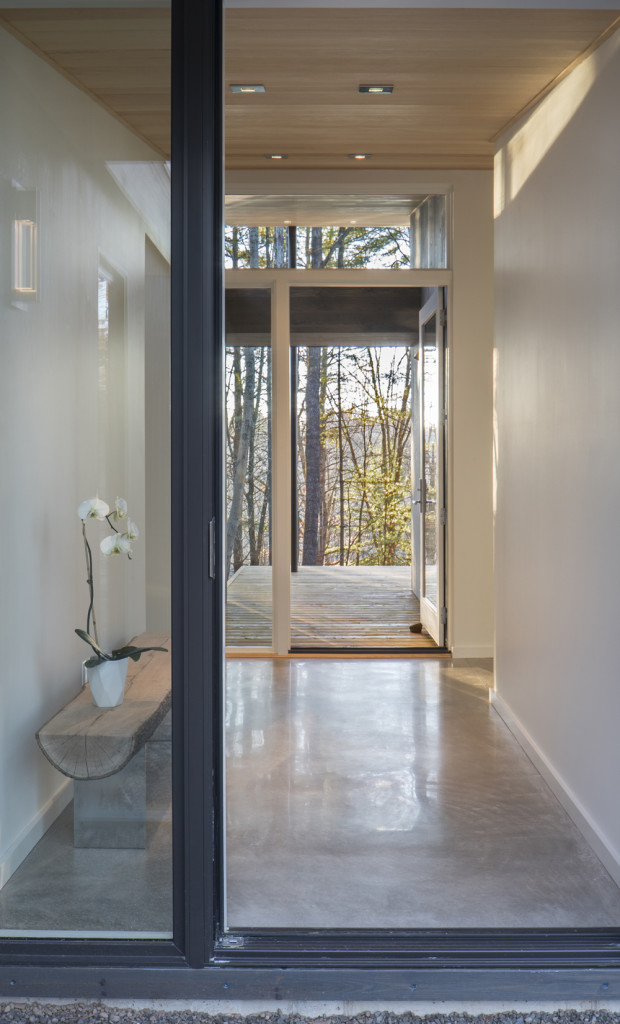 The pass-through entryway draws visitors into the house, while immediately providing a connection to their surroundings.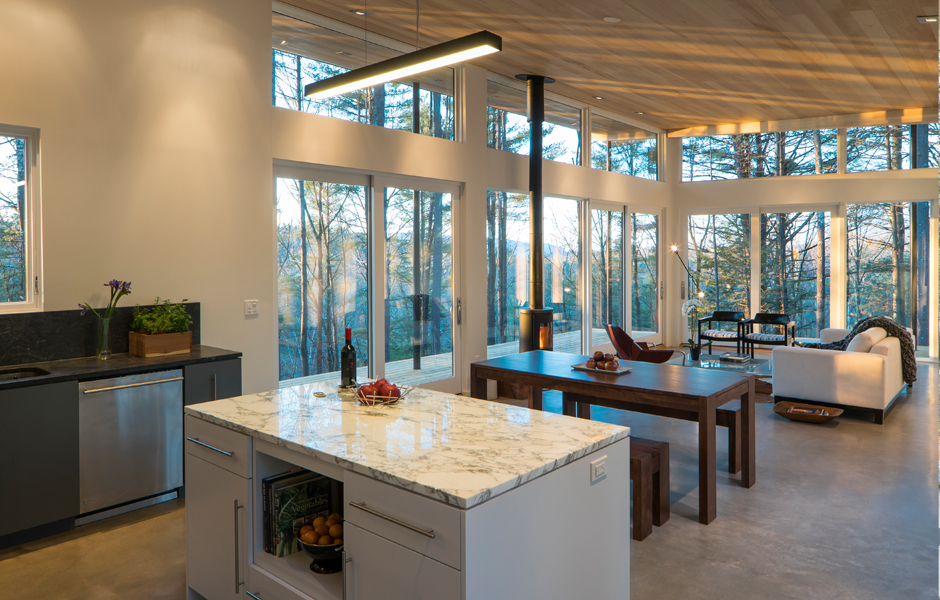 As the sun rises in the morning, the central space is bathed in light—and remains so throughout the day.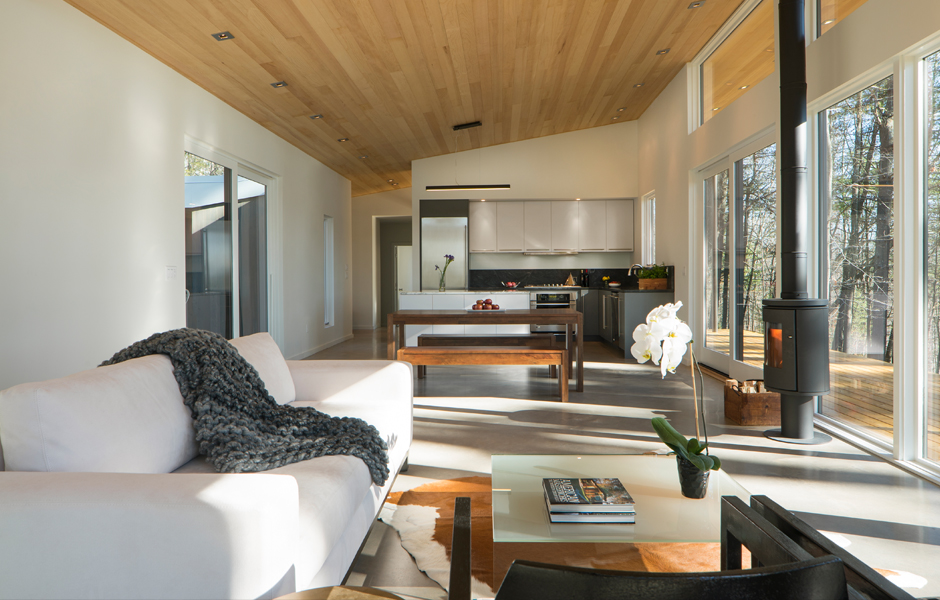 The open plan encourages social interactions but also provides flexible functionality for multiple users.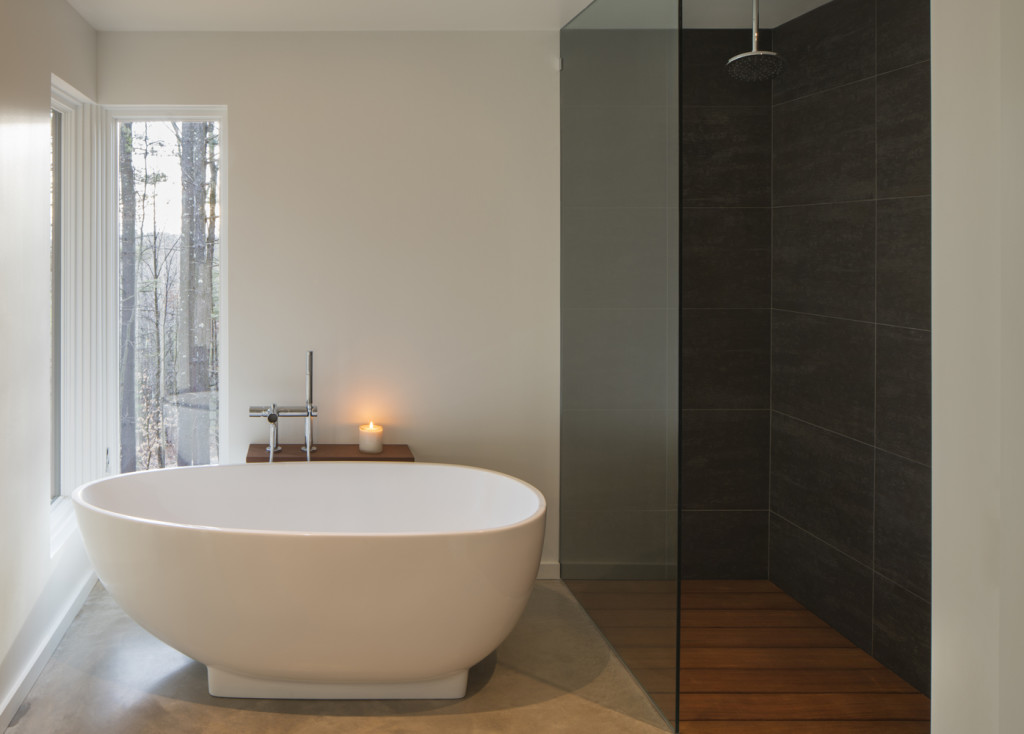 Views are curated in even the most intimate of spaces—and the shower floor in the master bath brings the outdoors in.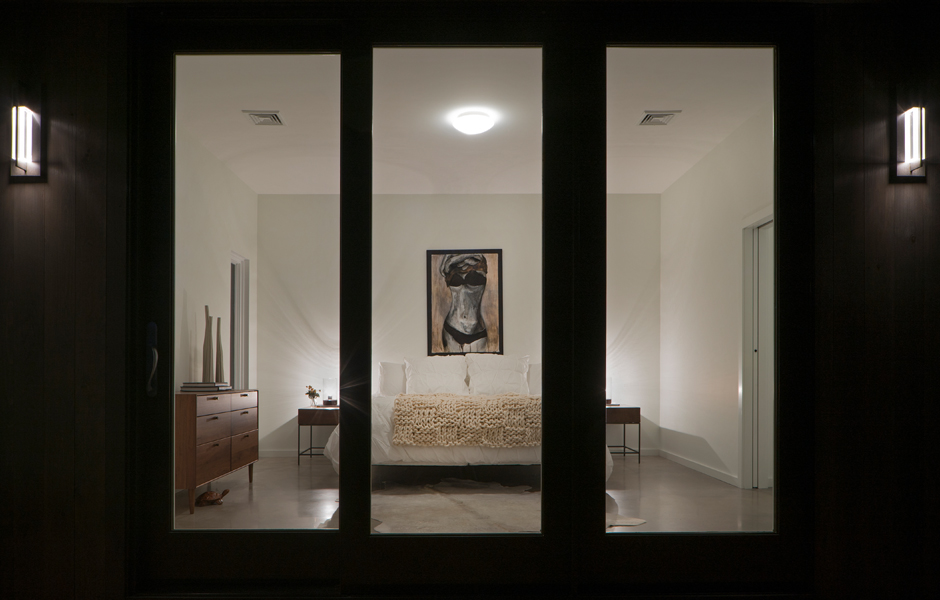 This view of the master bedroom from a partially enclosed portion of the deck demonstrates the intimacy of the private wings.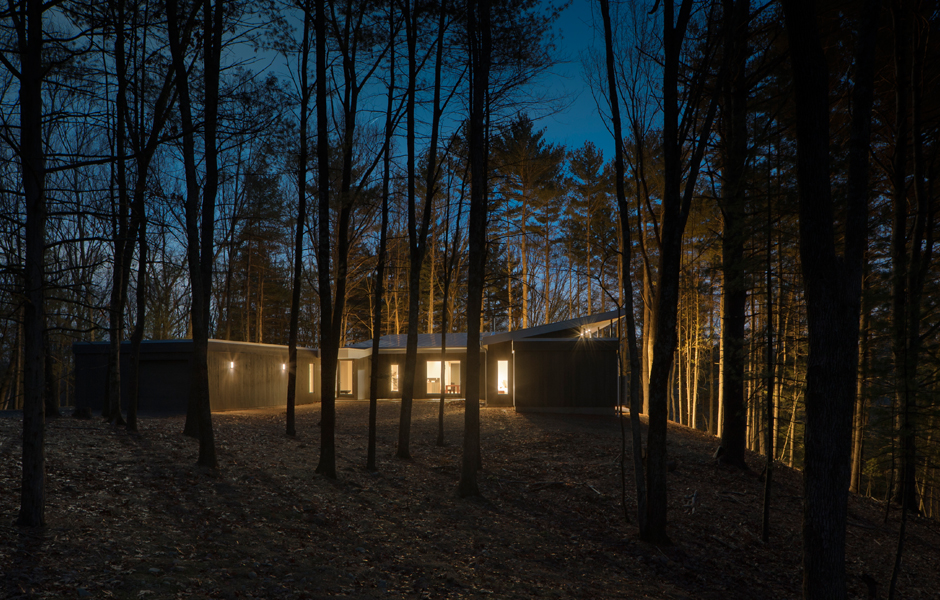 The final approach to the house gives just a subtle peek at the brilliant lantern, allowing for a gradual reveal.
11 Comments