Home is where the Heart is.
As is probably evident from most of the images I share in my blog posts, my style is minimal and modern. I keep my home this way as well, but that doesn't mean I don't display photos and knick-knacks too. I realize as I look around that many of my favorite "things" have to do with the memories and stories that go along with each of them. I guess this is a perfect example for the quote, "Home is where the Heart is."
Favorite #1: First of course my favorite thing is my family. My mom is in Tampa and my sister is in San Francisco so I cherish the times when we can be together. We were all in Tampa for a week at Christmas – my sister and I got to act like kids, and my mom got to act like a mom, and we had fun! Those 2 women are a huge inspiration for me and my 2 most favorite people. …along with my husband. I actually tell my husband sometimes that he is my very favorite thing. He is not only a wonderful partner but he is my biggest fan and my best friend. (and he even had fun too with us girls in Tampa!)
Favorite #2: As far as "things" go, top on my list is a painting I did when I was about 5 years old. This is one of my favorites not because it shows off my amazing artistic talent (work with me here) but because it was framed and hung on my grandmother's wall for as long as I can remember. (My grandmother was a lover of art and I thought she had fantastic taste so this was a big deal!) I remember being so proud that she thought my artwork was worthy to frame and hang up. It hangs in my office now as a reminder of my grandmother's larger than life personality and her constant belief in me.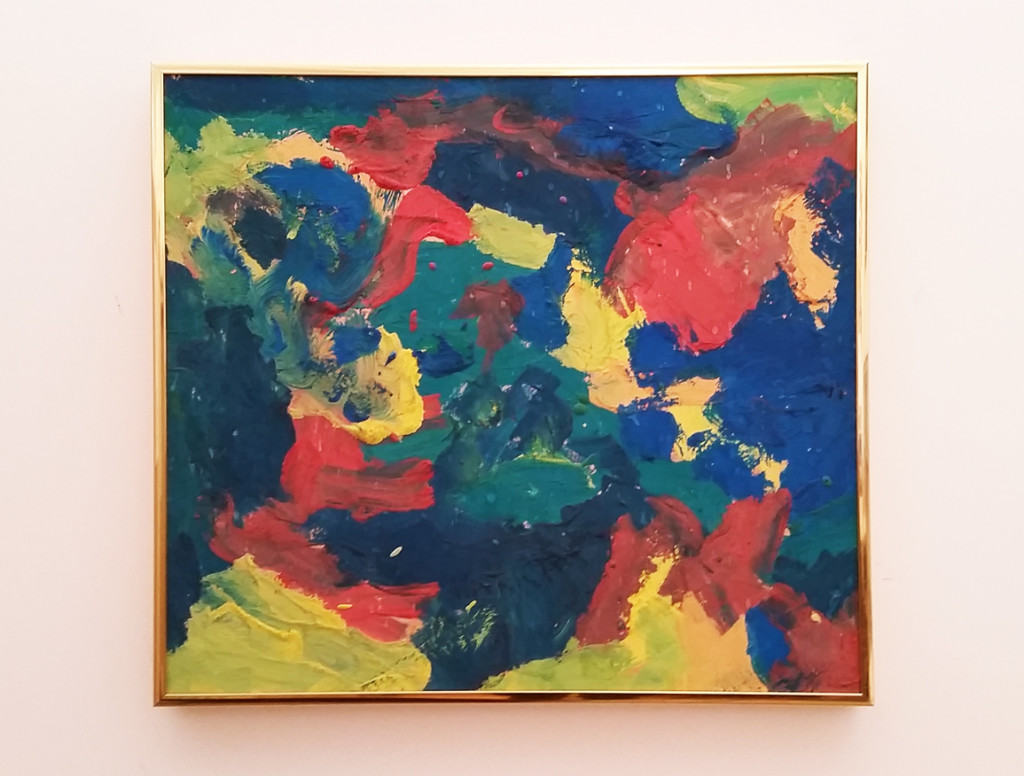 Favorite #3: My carved wood turtle. The wood and the hand carving are both beautiful. And the turtle is pretty cute so he also keeps me company in my office when he's not "working" (see photo below.) But again, I'm realizing my favorite "things" are memories more than the things. This wooden turtle was a gift from my dad. When we were little my dad would bring my sister and me little "souvenirs" from his trips – think T-shirts or teddy bears. As we got older, that didn't happen as much…but one year (we were grown "kids" at this point) he brought us these carved wood animals and to me it was fondly funny to think of it as "you're an adult now, but I can still bring you little things."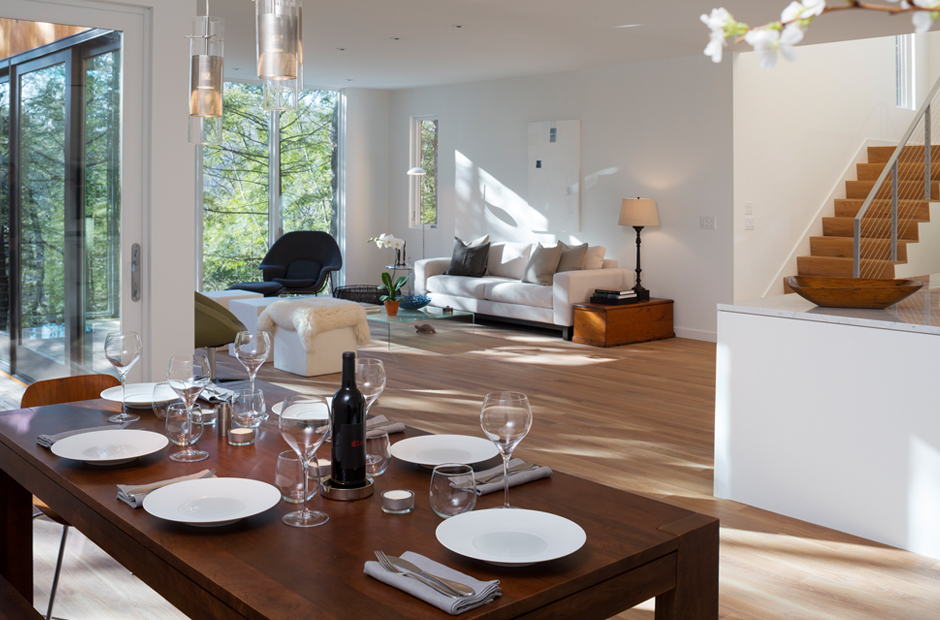 Creek House by Studio MM, photography by Paul Warchol
Favorite #4: Yes, I have many favorite parts about designing and building my clients homes…. that I am always talking about (here and here) on the blog. My very favorite part is visiting my clients home after they have moved in… I just recently had the pleasure of walking through the Creek House with Brad and Andrew who are obviously genuinely happy in their home and appreciated every minute of them telling me all the ways they love their home. That is definitely my most favorite part about being an architect.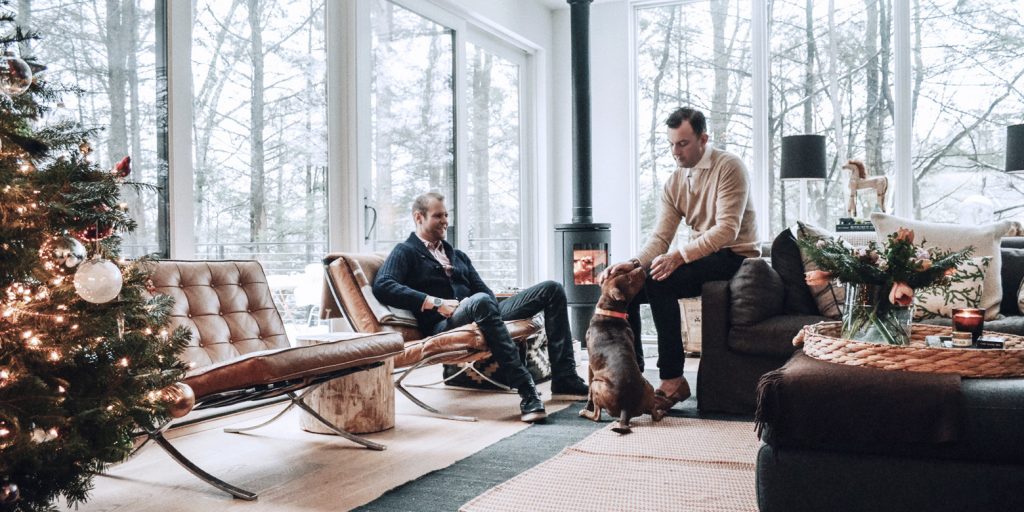 Image from an article published in TRNK: Holiday Entertaining with Birchbox Man by Tariq Dixon
Favorite #5: 6 years ago when I finally passed all 9 of my architecture exams and got my license to be an Architect, my in-laws (not in-laws at the time) sent me a beautiful Murano glass paperweight as a congratulations. My architecture license means a lot to me. This little glass sculpture sits on my desk and reminds me of that very proud moment every time I look at it. It also reminds me how lucky I am to have so many wonderful people rooting for me!
The inspiration for today's post was brought on by Bob Borson of Life of an Architect. This is the 5th post in the ongoing #ArchiTalks series in which Bob gives a group of us (architects who also have blogs) a topic…we all post on the same day and share each others' posts. And so, at Bob's request for us to write about our Favorite Things, I am happy to share A Few with you.
This was a fun post for me to compose…though I have to say it "tugged at my heartstrings" a bit. Don't worry – after this I'll go back to talking about bathrooms and kitchens! 🙂 I look forward to reading about all of my colleagues Favorite Things as well! Check them out below:
Bob Borson – Life of an Architect (@Bobborson) "My Favorite Things…again"
Jeff Echols – Architect of the Internet (@jeff_echols) "How I get Through My Day: My Favorite Things"
Mark R. LePage – Entrepreneur Architect (@EntreArchitect) "Six Simple Acts that Make My Day.."
Lee Calisti – Lee CALISTI architecture+design (@leecalisti) "favorite things (at least a few)"
Cormac Phalen – Cormac Phalen (@archy-type) "Favorite Things"
Michele Grace Hottel – Michele Grace Hottel, Architect  "..a few of my favorite things.."
Meghana Joshi – IRA Consultants, LLC (@MeghanaIRA) "These are a few of my favorite things.."
Rosa Sheng – Equity by Design/The Missing 32% Project (@miss32percent) "When the Dog Bites…; Favorite Things"
Lora Teagarden – L2Design, LLC (@L2DesignLLC) "My Favorite Things: the pieces of my story"
Matthew Stanfield – FIELD 9 Architecture (@FIELD9arch) "9 Things i Like"
Amy Kalar – Archimom (@AmyKalar) "My 10 Favorite Things"
Nicholas Renard – Cote Renard Architecture (@coterenard) "Favorite Things – Just a Few"
Evan Troxel – Archispeak (@etroxel) "My Favorite Things"
Jeremiah Russell, AIA – ROGUE Architecture (@rogue_architect) "a few of my favorite things: #architalks"
********
6 Comments