Ever wonder what it's like to be an architect? or what an architect does?
Architect = Problem-solver, Collaborator, Listener, Leader
Architects wear many hats…and as a small business owner I get to wear even more: Architect, Entrepreneur, Social Media Marketer, Small Business Strategist….you get the idea!
But of course it is the Architect hat that is the focus of most of my day: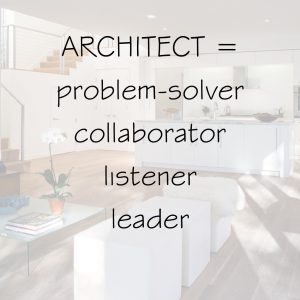 Today's post is part of our #ArchiTalks series in which a group of architects write about a selected theme and all post on the same day. Bob Borson, our ring leader for these posts, gave us 2 weeks notice and asked us to pick "one day to feature what we did all day long as an example of the variety of responsibilities we all face through the process of doing our jobs." I've linked to others in our group below… today's posts will surely be entertaining – and hopefully informative – for our readers in explaining all the various tasks that make up "being an architect."
A Day in the Life of this Small Firm Residential Architect: 
6:30am – At my desk: My favorite time of the day is early morning. Partially because I'm genuinely a morning person, and partially because I find I can be super productive before "office hours;" then I'm motivated to keep up that pace for the rest of the day.
The day I'm writing about here happens to be a Monday. At the start of each week the first thing I do when I get into the office is plan out the entire week. This isn't necessarily a To Do list for the week or a daily schedule, but it's a way for me to organize my week on a per project and per everything-else-small-firm basis. One thing I've learned as a small business owner is that having a system in place for how and when things get done allows me to juggle the various hats while still meeting deadlines and keeping my clients happy.
7:35am – Almost every morning at 7:35 am I post on facebook. (Remember, consistency is key..) Each Monday a few residential architecture colleagues and I post a #HouseoftheDay as a way of supporting and promoting our profession. I use social media as a way to tell the story of my firm on a daily basis – what we like, what inspires us, and what we do as residential architects.
7:50am – Call from the contractor: Due to weather, one trade won't be starting today as we had discussed but would be out first thing tomorrow. And he has a meeting scheduled with another sub-contractor for pricing on a structural change and he'd let me know what the concrete guy says. (…a little foreshadowing here for how the rest of the day will go!)
When Bob first emailed about the theme for this #ArchiTalks post I thought I would select a "site visit day" to write about since Building Your Home is one of my favorite parts of being a residential architect. But as this particular Monday progressed, I realized it would tell the story of Architect = Problem-solver, Collaborator, Listener, Leader much better than many other days… and best explain why the challenges (and solutions) of being an architect make this a very rewarding job!

1:43pm – Call from the contractor: "Are you sitting down?"
Never a good sign. I said yes, hoping he was going to say he was kidding. He wasn't. We are waiting on final pricing from our concrete contractor after a small change in the drawings so that we can proceed with construction on this house before the ground freezes for the winter. Not an ideal position (and one I would not be in under many circumstances) but this is a unique situation, and bottom line is we need to make it happen.
Yes the client asked for a change. Yes, they knew it would cost more money. But not this much money. I knew this first answer was not going to work in our budget and we needed to find out more information before discussing it with our client.
1:55pm – Call to the Structural Engineer: I called our engineering consultant to brainstorm about possible alternatives to reduce the additional structure and therefore costs. (To simplify the problem for you here, an addition to the roof covering the porch resulted in a much larger "uplift" force on the roof and therefore significantly increased the steel that needed to be in the footings…more education on that another time.) The engineer said he would run a few more calculations for some options we discussed and get back to me asap.
2:08pm – Voice mail from the contractor: He had spoken with the concrete subcontractor again and they had some suggestions for places to save money.
Call to contractor to discuss.
Call to engineer to explain contractor's suggestions.
2:50pm – Email from engineer with new calculations and follow up phone conversation.
2:57pm – Call to contractor: By reconfiguring a small part of the re-design and through some extra feat of engineering magic (having to do with wind calculation codes), we significantly reduced the new steel required. The contractor assured me this would reduce the cost down to where we needed to be and he would have that number to me by the end of the day. Our final approval meeting tomorrow morning with our client can continue as scheduled.
Whew!
3:00pm – Scheduled conference call with a colleague who is considering "going out on his own." He asked me to describe some of the biggest challenges I faced when starting my own business and what advice I had for him. "It's the hardest thing you'll ever do, but certainly the most satisfying. Go for it!" …or something like that.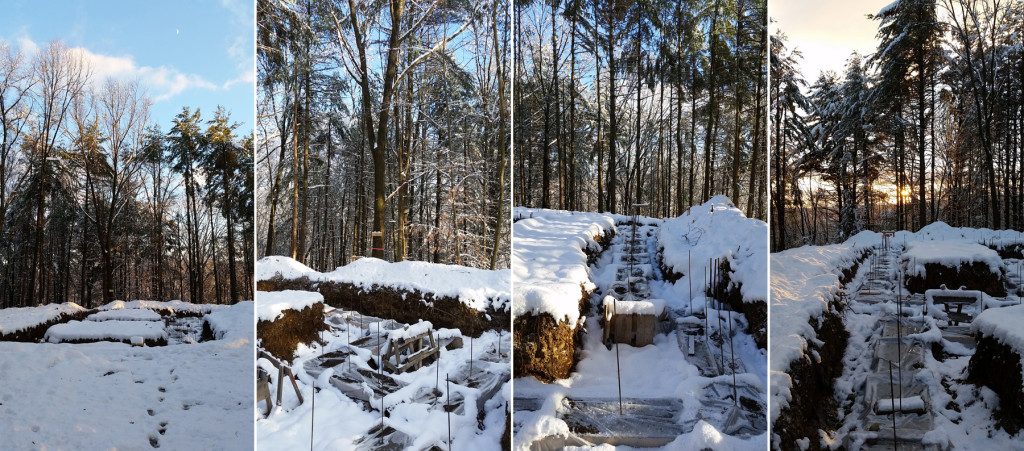 There was a lunch meeting in there and a few more phone calls throughout the day- one with another consultant and one with our client about our meeting tomorrow, and many more emails – back and forth to a consultant regarding window dimensions and specifications…. but after the "Are you sitting down?" conversation above they're really not all that exciting. I only mention them as they were also part of the day…
The rest of the afternoon was spent on presentation materials for the client meeting tomorrow which include SketchUp models and excel spreadsheets.
6:27pm –  Most days I try to stop my "work" day at around 6pm so that I can focus on the "everything-else-small-business" side of my job. After "office hours" I catch up on invoices and finances, write posts for The Architect's Notebook, strategize about social media, plot our marketing ideas/goals, update our website with our current ON THE BOARDS projects, catch up on what's interesting in the architecture world so I can post it on social media at 7:35am tomorrow….
********
I believe the Monday above was an exceptionally perfect day to illustrate the VALUE that an architect brings to your project – big or small, residential or educational, this is "What an Architect Does."
And be sure to check out "A Day in the Life of.." my #ArchiTalks colleagues below:
Bob Borson – Life of an Architect (@Bobborson) "A Day in the Life of an Architect.."
Jeff Echols – Architect of the Internet (@jeff_echols) "What To Do When You Lose Your Job…: A Day In The Life"
Mark R. LePage – Entrepreneur Architect (@EntreArchitect) "A Day in the Life of Mark LePage (Podcast).."
Lora Teagarden – L2Design, LLC (@L2DesignLLC) "A Day in the Life of: An Almost Architect"
Lee Calisti – Lee CALISTI architecture+design (@leecalisti) "a day in the life…part 2"
Evan Troxel – TRXL (@etroxel) "A Day in My Life"
Matthew Stanfield – FIELD 9 Architecture (@FIELD9arch) "A Day in the Life of FiELD9: architecture"
Jeremiah Russell – r|one Studio (@rogue_architect) "a day in the life of a rogue architect"
Nicholas Renard – Cote Renard Architecture (@coterenard) "Another Day of Living the Dream"
Cormac Phalen – Cormac Phalen (@archy-type) "Life in a day of Panic"
Collier Ward – Thousand Story Studio (@collier1960) "A Day in the Life of an Architect"
Jes Stafford – Modus Operandi Design (@modarchitect) "A Day in the Life of MODarchitect"
Andrew Hawkins – Hawkins Architecture (@HawkinsArch) "Day in the Life of a Small Firm Owner"
********
16 Comments