Last week's post, Working with an Architect : How to Get Started, answered How to Find a Residential Architect? and put great emphasis on selecting an architect you feel you can TRUST.
This week's post on Working with an Architect will try to clarify What are Basic Architectural Services?,  How To Work with an Architect?  and How Much Does It Cost? (Yes, we're going to talk about money.)
What are Basic Architectural Services?
During the initial meeting with a client we explain our design process and our fee structure. Studio MM is a full service architecture firm, meaning we work with our clients on designing their home from concept through completion. From initial planning and defining the scope of work, we remain closely involved in the project through construction to Final Completion.
The graphic summary of Basic Architectural Services below outlines each step the architect and client will go through in designing a home. It divides them into 4 Phases of Basic Architectural Services: Schematic Design, Design Development, Construction Documents and Construction Administration.
Creating your home is an extensive process. We believe this sketch simplifies the tasks involved in Working with an Architect and answers the question, How does this process work?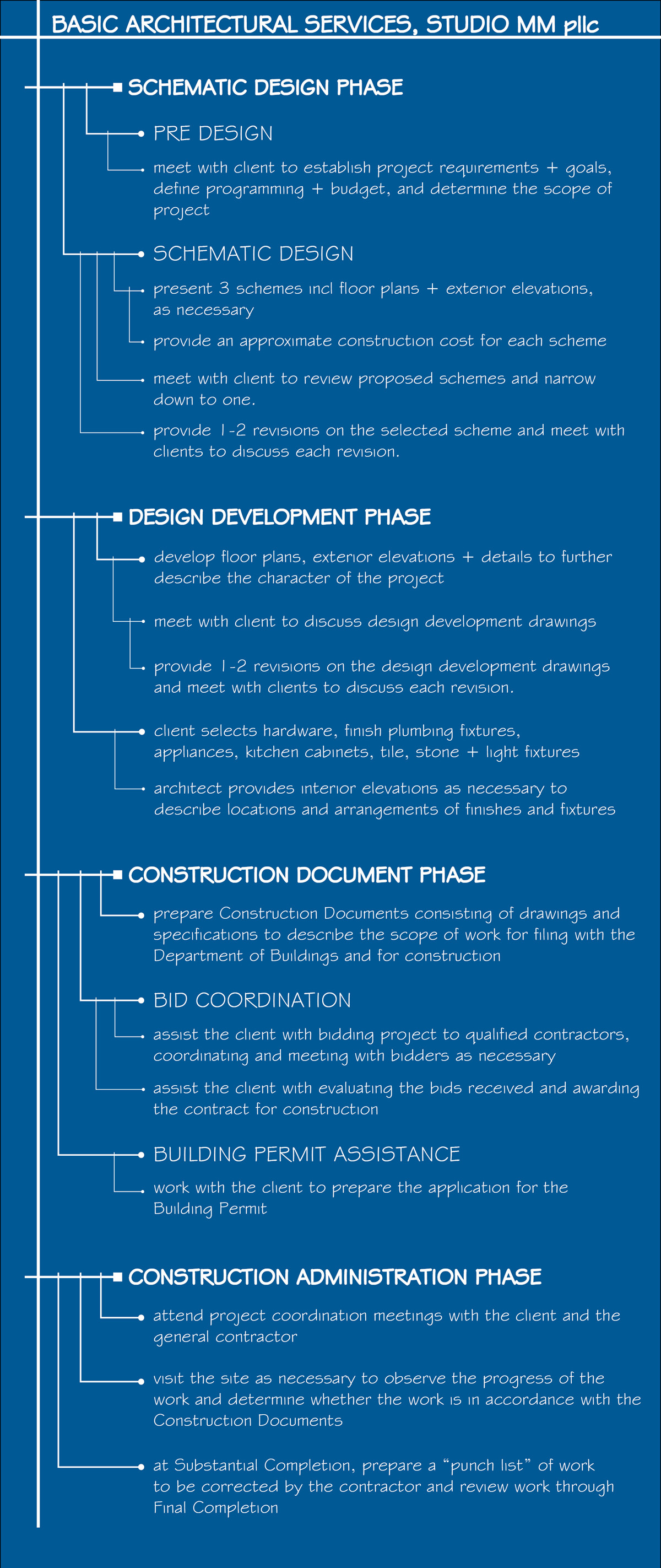 ***
How To Work with an Architect?
Designing your home should be an exciting and fun process. As illustrated in the sketch above you will be spending a lot of time working together with your architect in designing your home. The relationship between an architect and client is the most important part of the design process, and you should focus on finding an architect that you feel you can TRUST.
On his blog, Life of an Architect, Bob Borson writes that the "stimulation between architect and client" throughout the entire process makes for the most successful project:
"The very best projects are the ones with the best clients – the clients who are interested not just in having an architect solve their problem (there are loads of architects that can provide a solution to your program) but are interested in having an architect help them see the opportunities and potential of what a project can be that are beyond the clients imagination… I don't need my clients to agree with me but I want them to be a part of the ownership of the creative process and the final product."
—Read more on why you want your architect to have an ego on Life of an Architect, The Architect's Ego.
Studio MM begins the design process with "Tell us more about YOU and how you live" so that we can create the best possible solution for you and your family. After all, this isn't something that happens every day. This is an opportunity to create your home. Our focus is designing you a home inspired by your everyday life.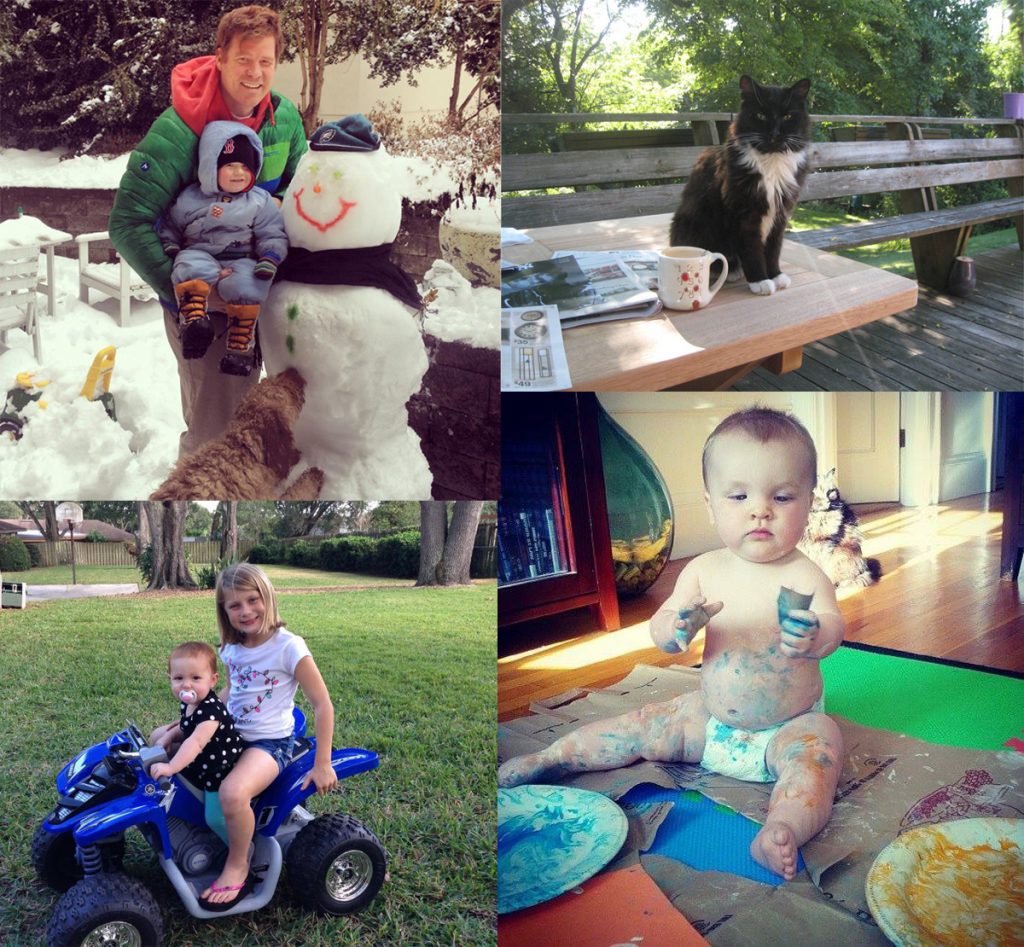 Inspiration from everyday life: images from What do you LOVE about your home?

How Much Does it Cost to Work with an Architect?
After our initial meeting with the client we prepare and send a written proposal which provides more detail about our process and further explains our fees.
Studio MM usually works on an hourly basis in the beginning of the project. We find that working hourly – and providing an estimated "not to exceed" number of hours for pre-design meetings and production of the first 3 schemes –  gives our clients peace of mind. As the project progresses we move to a fixed fee based on a percent of construction cost, transitioning as soon as possible so that we can stop worrying about how many hours we spend on making your home as perfect for you as possible. This also allows you to know early in the process what it will cost to design your home.
Residential Architecture Fee Estimates: hourly fees range from $100 – $250 per hour, and architectural fees based on a percent of construction cost can be anywhere from 10% – 25%.
Studio MM provides an approximate construction budget associated with each scheme we present to the client, and it is from this budget that our fees are calculated. After narrowing the proposed designs to 1 scheme, compensation for architectural fees will be a fixed fee based on a % of the construction budget for that scheme.
The reason for the flat fee is, again, so that the client will know early in the process what the cost will be. This fee will not change as long as the scope of the project does not change. For example, if we estimate your 2500 square foot home will cost $250 per square foot to build, then our fee is based on the total cost of $625,000. The fee does not change if your cost to build goes up. However, if your build cost goes down then our fee would be adjusted down as well. We believe this is a fair way to structure our fees for our clients as well as for our firm.
Smaller Project? No Problem.
This same fee structure is easy to apply to smaller projects. Every project is slightly different and we work out details with our client as to what works best to prepare a unique proposal for each client.
As a residential architecture firm located in New York City, Studio MM is accustomed to working with clients on smaller projects and projects that require less "basic services." No problem! We are currently working with a client who first called and said, "I'm not sure if we need an architect or if you would even be willing to work on something so small…but we are looking for someone to help us envision what our apartment could be and how we can make better use of our small space." To which I responded that I was absolutely interested – one of my favorite parts of being an architect is the problem-solving.
And, of course, YES! It is a VERY GOOD IDEA to work with an architect when designing your home!
For more from our Working with an Architect Series please follow the links below:
Part 1: Working with an Architect: How to Get Started?
Part 3: Working with an Architect: The Design Process
Part 4: Working with an Architect: Design Decisions + Details
Part 5: Working with an Architect: Building Your Home
Tweet
Find out more about Marica McKeel and Studio MM on our Studio page and more about our Approach to Design on our Design Process page.
Do you have any questions about services, proposals and fees that I've not answered here? Please feel free to email me with any questions or if you would like more information on all things residential architecture: architect@maricamckeel.com
*** Studio MM would like to give credit and thanks to Mark R. LePage of Entrepreneur Architect for his "Products and Resources to Help You Build a Better Business" which have been a valuable guide and resource for Studio MM's architectural business.