Our What to Expect from Your Architect series is written to provide insight into the process of working with an architect to design and build your home, so you'll know what to expect every step of the way. With this post – our 7th in the series – we complete the Schematic Design Phase of our project. Next we move into the Design Development Phase.
Schematic Design – the "second half"
Last weekend I met our clients for the 018House for the "second half" of our Schematic Design meeting. Remember, in our previous meeting we presented 3 schemes and discussed how our clients would live in their home. Along with plans we presented exterior elevation sketches and images for reference. We talked through each scheme so that we understood completely what our clients liked and didn't like about each one. We then used all of that information to create a new plan and a virtual 3D model of the design for our clients' home.

Visualizing Your Home
We very commonly hear from our clients that they have a hard time envisioning what their house will look like when it's built. Even with drawings of plans and exterior elevations, many of our clients still have a difficult time understanding exactly how their home will look in three dimensions.
We have found that creating a 3D computer model of our clients' home helps our design process immensely. Simply, the model allows us to communicate more easily with our clients about all corners of their home. But beyond the visual understanding, a 3D model gives our clients a much greater ownership of their design. We believe that our clients continue to be excited about making design decisions with us because they are still "right there with us" in three dimensional space.
Tools of the Trade (+ 1 new super-cool tool)
In our office we use SketchUp to create 3D models in the computer because it's simple, easy and quick. Architecture is never one dimensional so I like to work simultaneously in 2D and 3D as I design. When I'm working on a project I will frequently toggle back and forth between AutoCAD plans and a SketchUp model. SketchUp also allows us to easily set up views or make a quick video of the model to present to our clients. That is how our meetings used to go…..
The meeting last weekend for the 018House was a little different. And no doubt it was the best client meeting we've had yet. All due to a new super-cool tool: the Surface Pro 3! (Well, I do think they loved the design because of the design but the Surface Pro 3 surely changed the dynamics of the meeting – for the WAY better!)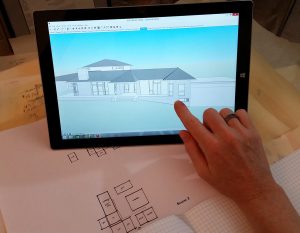 First I played a video which "walked" the viewer 360 degrees around the computer model design for our clients' home. This gives a much better understanding and definitely provides the means for visualizing what their home will look like when it's built. Then, I opened the SketchUp model and showed my clients that with the touch of a finger on the screen they could move themselves around their house. They loved it!
The capability for our clients to be in control of what they were seeing brought an entirely new energy and excitement to the meeting. And it offered a much better means for communication about the design. They moved around, up, down, zoomed into where they wanted to know more or where they wanted to ask questions…
The possibilities that this new tablet provides for architects are going to make a huge difference in my practice.
The very best moment of the meeting was when their 5 year old son climbed up right next to me and started moving his finger across the screen to see "his house" move around. As his parents looked on they explained where his bedroom was in the model and that his playroom would be right outside of his room, his eyes lit up and he had the biggest smile on his face… the pure joy of that 5 year old made my weekend! …another reason to love being a residential architect!
Notes: Microsoft has nothing to do with my comments on the Surface Pro 3- I'm just genuinely excited to have a tablet that thinks like an architect needs it to! Read about other architects + Architizer loving the Surface Pro here. And a special thanks to my friend Nick Renard, a fellow residential architect, who talked me into buying the Surface Pro 3 in the first place. Cheers!