Success in architecture is not about designing a house or building a structure. It's about making a difference in people's lives.
Earlier this year the phone rang in my office, and when I picked it up the woman on the other end of the line started telling me that she found my architecture firm online and was very happy to talk to me. She said she had "read every page of my website" and she thought "we would make a great team."
Yes, she really said that. No, I had never spoken to her before.
It's All About the Story
In today's world of immediacy, social media overload and constant pitches, I certainly notice when a company slows down for a second and tells a story. Budweiser sends a subtle yet powerful message in this beautiful ad with a guy and his dog, and one of my favorites is GE's touching commercial told through the imagination of a child about her mom:
Storytelling is the best way to get people excited about what you do. The more your readers/listeners/viewers can relate to your story, the more they will engage with you and your business. As soon as I saw that GE commercial for the first time I was impressed, and completely captured. If I had to choose right now between a GE product and another, I'd buy GE without a doubt.
The commercials above are not about selling a product. They are stories intending to engage their audience on an emotional level. But you don't have to create a Hollywood quality "short" to engage your customer.
It's simply about telling a story.
5 Simple Ways to Start Telling Your Story + Engaging Your Client:

**
Tell Your Business Story with Your Client in Mind
"I love being an architect because I love helping people's dreams come true. Yes, I know this sounds corny, but as a residential architect this is what I do: listen to my clients talk about their hopes and desires, work with them to create their dream home, and then watch their smiling faces when they are so excited to see their dreams become reality."
Business is about relationships. In architecture, the most important part of the design process is the architect/client relationship.
Last weekend I met with clients to show them a virtual 3D model of the design for their new home. Their 5 year old son climbed up right next to me and started moving his finger across the screen to see "his house" move around. As his parents explained where his bedroom was in the model and that his playroom would be right outside of his room, his eyes lit up and he had the biggest smile on his face… the pure joy of that 5 year old made that the best client meeting yet!
These are the stories that I tell on my website because these are the stories that best explain what it's like to work with an architect.
Tell YOUR Story
Why are you doing this? What makes you excited about your work?
I had a client ask me once why I became an architect. I told him a little bit about my background and why I love what I do. He told me later that he and his wife always want to work with people who are passionate about what they do. He believed that meant we would work extremely hard to make sure that their project was a success which was very important to them.
People want to hire/ work with/ buy from someone they feel they can trust. The more they know about you, the more comfortable they will be working with you.
Blog
I started my blog with much hesitation. My excuse, "I am not a writer and I don't know what to say…" Well, 52 blog posts and 52 weeks later I can now say, "It's completely worth it!" Blogging is the perfect way to tell your story.
What questions do clients have about your business or how it works? Answer them.
Why are you different than your competition? This better be a very good story!…and this answer should be carried through every story you tell.
Picture Posts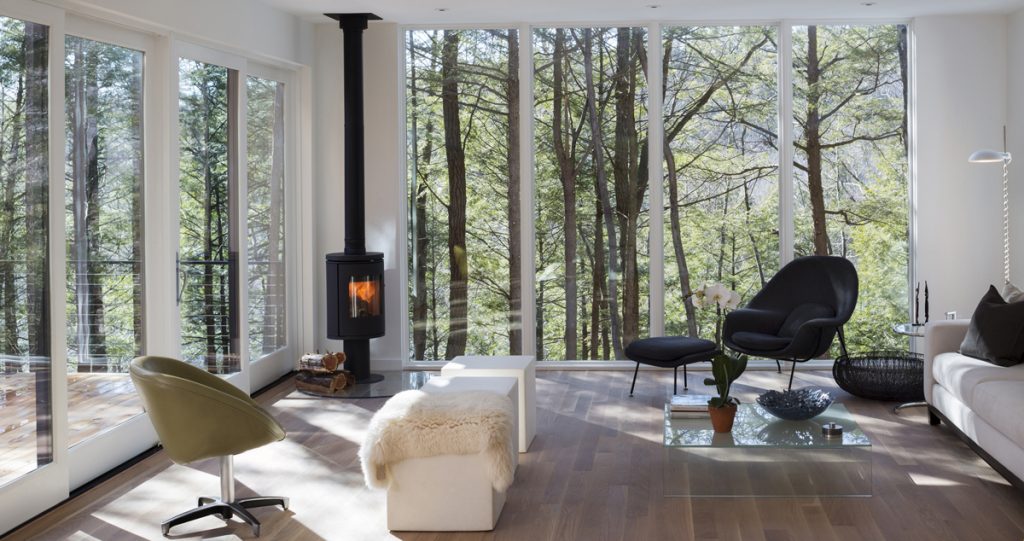 Images often speak louder than words and if chosen carefully will grab your reader's attention. Many of my weekly posts are a "compilation of images" around one topic. For example, a few weeks ago I posted Modern Design Inspiration: 8 Exterior Entryways and got a lot of interaction on our Residential Architecture page on LinkedIn.
I usually choose a subject that I'm researching or designing for a project at that time (I have fun with my posts because I am writing things that are interesting to me or relevant to my projects – this makes it much easier to be excited about what you are putting out.) And I only include images that inspire me. These images help to represent my "style" (or what I like) to my client and visually present my story.
Social Media
Tell your story through your online presence. I believe one of the first things a potential client will do when they consider working with you is look you up online. I know that is what I do. So make sure they like what they find. Make sure YOU like what they find. The best way to do that is to post your own content on social media and do it consistently.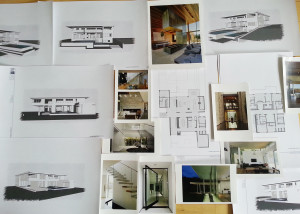 I post on Studio MM's Facebook page every day of the week with content that is interesting (I hope) for my target audience -friends, peers and potential clients – and relevant to my business.
I use Facebook as a way to share the story of my firm in ways that I don't do on my blog – a little more casually: a quick image of sketches I'm working on for a project or a special comment from a client meeting…
 I get a pretty good response from these "professionally personal" stories about what I do as an architect and how we work in my business.
Clients want to know who you are. Give them a great story!
Every business has a unique story. How are you telling yours?
********
Today's post is part of our #ArchiTalks series in which a group of architects write about a selected theme and all post on the same day. This time our theme is "Architectural Storytelling." I have included a link to the other posts below…sure to be a lot of great stories!
Bob Borson – Life of an Architect (@bobborson) "Architectural Storytelling – It's My Thing"
Jeff Echols – Architect of the Internet (@jeff_echols) "Architects can Improve Their Marketing by.. Storytelling"
Mark R. LePage – Entrepreneur Architect (@EntreArchitect) "Success Through Storytelling with Bob Fisher.."
Lora Teagarden – L2Design, LLC (@L2DesignLLC) "Architectural Storytelling: The Legacy of Design"
Lee Calisti – Lee CALISTI architecture+design (@leecalisti) "architecture as storytelling"
Evan Troxel – TRXL (@etroxel) "It's Their Story"
Matthew Stanfield – FIELD 9 Architecture (@FIELD9arch) "Stories in Architecture"
Enoch Sears – Business of Architecture (@businessofarch) "The Secret Ingredient To Convincing Anyone.."
Collier Ward – Thousand Story Studio (@collier1960) "Architecture and Storytelling are Forever Linked"
Cormac Phalen – Cormac Phalen (@archy-type) "The Generational Story – Architecture as Storytelling"
Jeremiah Russell – r|one Studio (@rogue_architect) "architectural storytelling: #architalks"
Nicholas Renard – Cote Renard Architecture (@coterenard) "The Story of a Listener"
Andrew Hawkins – Hawkins Architecture (@HawkinsArch) "Architectural Story Books"
********
**The Architectural Storytelling image above has been re-created from "People Don't Buy Products…" by Belle Beth Cooper and "Features vs. Benefits" from User Onboarding describing a "company trying to sell me on the features of their product instead of how it actually improves my life." Both articles are excellent and worth a read for why storytelling is so important for businesses.