Now that we've gotten all of the difficult parts behind us, let's have some FUN:
Residential Architecture + The Design Process..
Architect = Listener
We begin the Design Process with Pre-Design questions and a meeting to discuss your goals and ideas for designing your new home. We ask you questions about you, how you and your family live, how you currently use your home and how you would like to use your home in the future:
What is your wishlist for your home?
Where do you and your family eat breakfast? Dinner? Do you like to entertain?…
(and if you have children) Where do your children do their homework? Where do they play?…
Before our Pre-Design meeting we also ask our clients to collect images that "speak to them," and to select visuals of all kinds – landscapes, fashion, architecture, interiors, inspirations, etc. – so that we can better understand YOU and be more prepared for how to best design your home.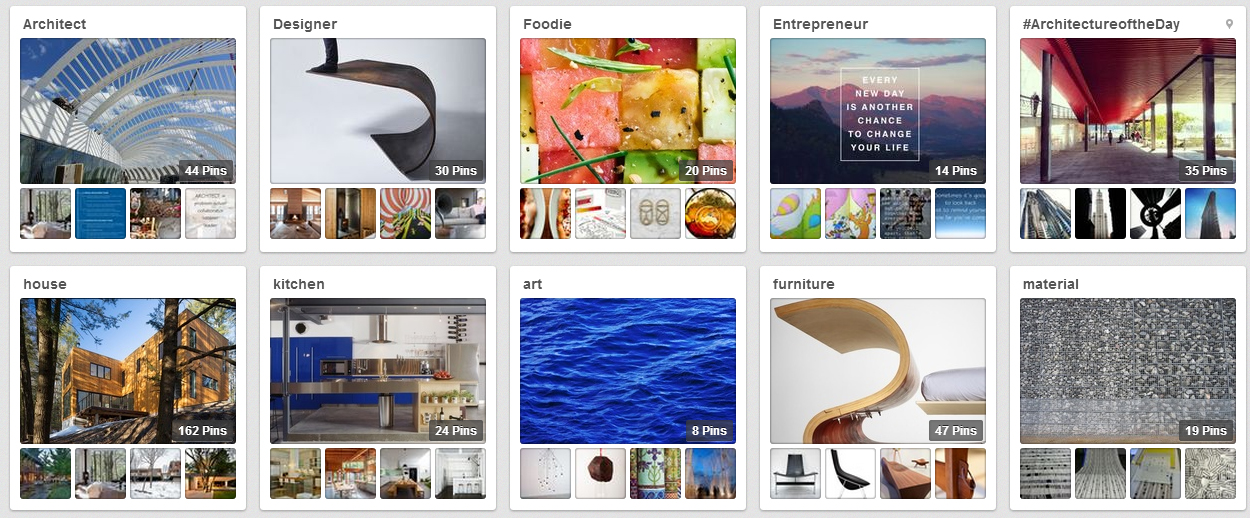 Pulling together images online is quite easy with websites such as Houzz or Pinterest and is one of the best ways our clients can share with us their visual likes and dislikes.  We try not to focus on the word "style" here as we try not to limit our designs to a certain style. We design to meet the desires of our clients. As we've said before, "Each design is a unique story… Our focus is designing homes inspired by people's everyday lives."
The objectives for the Pre-Design Phase are to establish project requirements and goals; define the program; determine and discuss the budget; and outline the scope of the project.
Project requirements and goals: "We found a beautiful property on a quiet street near downtown and would like to build our home. We love the views but would like maximum privacy from our neighbors…"
Define the program: "We have 2 children and will need a guest bedroom for our parents when they visit so we'll need at least 4 bedrooms…."
Determine and discuss the budget: "Our budget to build our home is  X  which includes the total construction costs as well as the design fees."
Outline the scope of the project: We outline all of the project requirements and program listed above which is to be designed or specified by the architect and discuss the timeline for your project.
Schematic Design Phase
In addition to learning WHAT we need to design, we must also consider HOW your home will be positioned on your site. The overall design depends not only on the scope of the project but also how your home fits in the context of the surrounding area. Characteristics such as views, privacy, topography, site circulation, sun orientation, shading, etc., as well as local zoning regulations and code restrictions must be considered. An architect goes through many variations – sketching, modeling, drawing – to come up with cohesive ideas to present to the client.

"The working and reworking of those initial ideas, considering the constraints and influences of the surrounding site, and the modifications that each design goes through are fascinating to me. Design is not a linear process. It is much more than simply putting a drawing on paper." – in an interview with Novedge.
This "flip book" of sketches for a house we are designing in Upstate NY briefly illustrates this non-linear process that an architect goes through to design your home:

During the Schematic Design Phase we present up to 3 schemes including plans and exterior elevations to our clients for review. Studio MM provides an approximate construction budget, based on a price per square foot calculation, associated with each scheme we present.
We meet with our clients to "walk through" each design on paper and work with them to resolve the various ideas into one scheme. This may take one or two more revisions before we settle on a solution. This isn't just a yes or no – this is our opportunity to work together to create the best possible design for your home. Collaboration between the architect and client is the single most important aspect of the design process.
Architect = Problem Solver
One of my favorite descriptions of What an Architect Does is a post from Keith at Cogitate Design which graphically illustrates all of the obsession, excitement and enthusiasm that an architect puts into each and every project. A few images from Keith's post What an Architect Does are below…


As Keith so cleverly depicts, an architect's job is to listen to our clients' hopes, dreams and desires and to work with them to create their home.
"How did you take all my random, partial, contradicting thoughts, meet the budget and schedule, and give me more than I expected?" – "I'm an architect, it's what I do." (not saying our clients ever come to us with random, partial, contradicting thoughts…but you get the idea!)
Our goal at Studio MM is to find a solution which is not only beyond our clients' expectations but also one that will positively influence their everyday lives.
This post is Part 3 in a 4 (or 5) part series about Working with an Architect. If you're wondering how to get started check out the first post in this series, Working with an Architect: How to Get Started? or have questions about architectural services and costs? We answer these questions in Working with an Architect: Making Sense of Services and Fees! 
For more from our Working with an Architect Series please follow the links below:
Part 4: Working with an Architect: Design Decisions + Details
Part 5: Working with an Architect: Building Your Home
Find out more about Marica McKeel and Studio MM on our Studio page and more about our Approach to Design on our Design Process page.
Do you have any questions about the design process that I've not answered here? Please feel free to email me with any questions or if you would like more information on all things residential architecture: architect@maricamckeel.com