The VALUE of Working with an Architect is not only in creativity and problem solving, but also in project planning and leadership.
What to Expect…Documenting the Process of Working with an Architect:
Our prior post in this series, What to Expect from Your Architect: Project Planning, laid out our initial organization steps for a new project. Today's post is still in the nitty gritty of planning and initial site analysis, but soon we will start talking design! Better to know all the rules before we begin to play!
We have had clients come to us with questions such as,
"I'd like to add on a family room to the back of our home but I'm not sure how far back we can build?"
or
"We'd like to build a new home on this vacant land but we are not sure what the restrictions are?" 
The answers to these and many other site related questions can be found in the zoning regulations for your neighborhood. And, the next question is often, "What is Zoning?"
Zoning
Zoning guidelines are set in place by the local municipality and control the physical development of land as well as the types of uses allowed on each property. Generally, residential zoning laws regulate building dimensions and size. They specify the minimum distance that a structure must be set back from each property line and the maximum building size and height allowed for each property.
Sometimes zoning will also limit the number of structures or parking spaces required or whether the owner is allowed to keep certain animals on his property. In a historic district for example, zoning regulations may be in place to preserve the character of the architecture and therefore also regulate material use and design. Zoning restrictions vary for each community.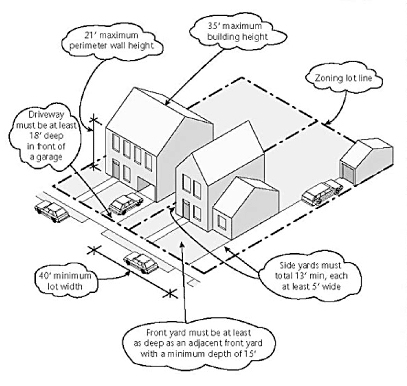 NYC's Zoning Handbook presents graphic images of what each zoning designation allows.
Architectural Design Guidelines
In addition to the local zoning regulations, some properties are further restricted by Architectural Design Guidelines put in place by the neighborhood or subdivision.  The intent is to maintain a consistent standard among the homes in the community. Typically these rules will dictate exterior material choices, additional setbacks from property lines or number of outbuildings. These rules can be as involved as limiting garage configuration, window style or trim color.
As an example, to preserve a more traditional look, subdivision restrictions may mandate a roof with a minimum pitch; that the exterior house cladding be of stone, brick or stucco; and that any wood trim be kept to a minimum. Excerpt from Architectural Guidelines for the 018_House project: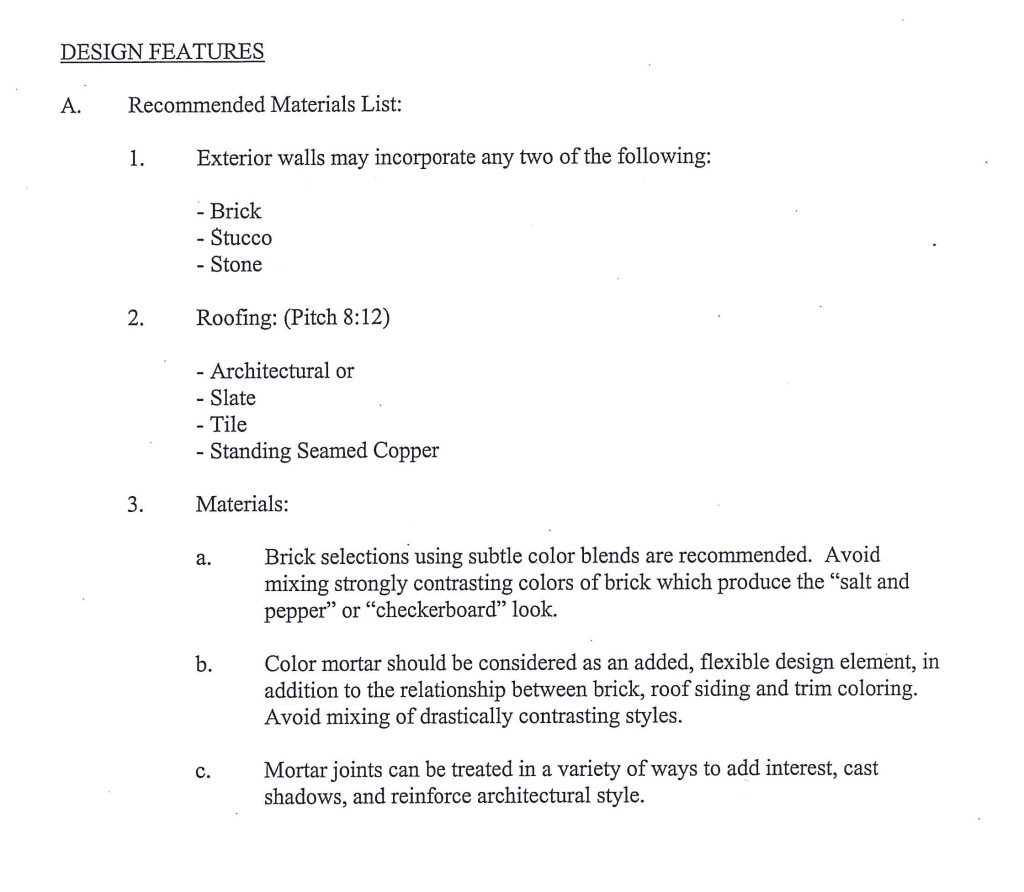 It is the responsibility of the architect to understand all of the design restrictions on your site and to work within these restrictions to create your perfect home.  What is it they say?… constraints enhance creativity!
After the Zoning Analysis and review of the Architectural Design Guidelines, the Pre-Design phase of the project is almost complete. In our meeting with the client next week we will we will review the Pre-Design Questionnaire (PDQ) and our clients' inspirational images as well as discuss the project schedule and budget. After this meeting we will create a Program Statement – a detailed statement describing the requirements and scope of the project – from which we can begin designing.