Sustainable. Local. Natural. Green. Architects talk about these words all the time but what do they really mean?
One of the new exciting "trends" buzzing around the architectural world is Urban Farming, with news recently that hundreds of vacant lots in Detroit will soon become the world's largest urban farm: "Hantz Woodlands is transforming blight to beauty as vacant, abandoned properties are converted to fields for new agricultural production." – from www.hantzfarmsdetroit.com

"Despite being perhaps naively ambitious, the plan could transform some of the poorest neighborhoods in Detroit into sustainable farming centers and mitigate the city's food desert."  – via post from Inhabitat on the Detroit farm project.
Naively ambitious, maybe. But as a twitter-mate noted, "creating food AND jobs and making productive use of vacant land and changing the urban landscape in a huge way!" is in my opinion extremely exciting and worth every effort of that ambition!
To present the concept of Urban Farming, I've collected images of existing urban farms that are already "digging into" (on/over/through) the built environment – doing amazing things for food, people, cities, communities, and sustainability –  as well as conceptual urban farming architecture – projects which begin to rethink the word "farm," especially in the urban environment, and offer a very bold response to the question, "What is Green Architecture?" Some of these ideas may seem pretty far-fetched, but I'll bet not many people thought we'd be farming all over rooftops in NYC either! And they're not only doing it, they're doing it sustainably + successfully. Architecture could stand to learn a thing or 2 from these urban farms…
"We don't just blindly talk about being 'local' 'sustainable' and 'natural'. While our business is about those things, we care about what those things stand for: flavor and nutrition, preserving water and soil resources, biodiversity, reducing harmful chemical use in food production, fair treatment of workers, and spending our dollars closer to home.
Our farm is unconventional. But so is our commitment to quality, taste and sustainability." – Gotham Greens: Philosophy

See more on Gotham Greens on their website or on HuffPost "Gotham Greens: Rooftop Farming in NYC"
"Brooklyn Grange is the leading rooftop farming and intensive green roofing business in the US. We operate the world's largest rooftop soil farms, located on two roofs in New York City, and grow over 40,000 lbs of organically-cultivated produce per year.
Why Urban Farming?
The city will always rely on rural farmers for the bulk of our food, and the relationship between urban and rural communities must be celebrated. But having farms inside the city limits which take advantage of unused roof space is an opportunity not to be missed. Roof farms have the potential to improve urban quality of life, create jobs, increase access to healthy fresh foods, and provide environmental and agricultural education to those of us who live in and love the city." – Brooklyn Grange
A Day on a Rooftop Farm in New York City: a beautiful video by bonappetit.com
A Day on a Rooftop Farm
Vertical Farming in Downtown Seattle – image from Mithun website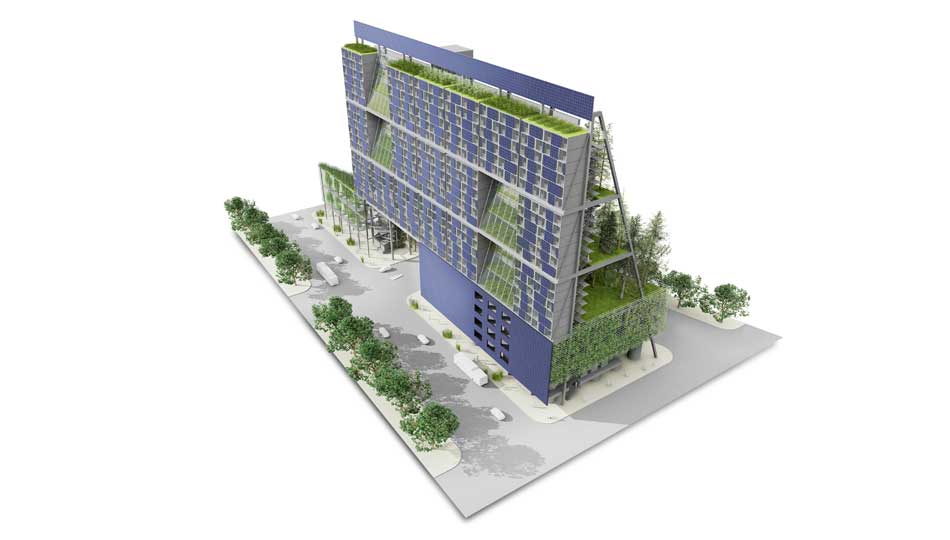 Food, water and energy are the focus of the Center for Urban Agriculture Design and self-sufficiency is the goal.
This project was originally conceived as a response to the Cascadia Region Green Building Council's Living Building Challenge and was awarded most visionary of the 19 entries. –  from Mithun website
Harvest Green Project by Romses Architects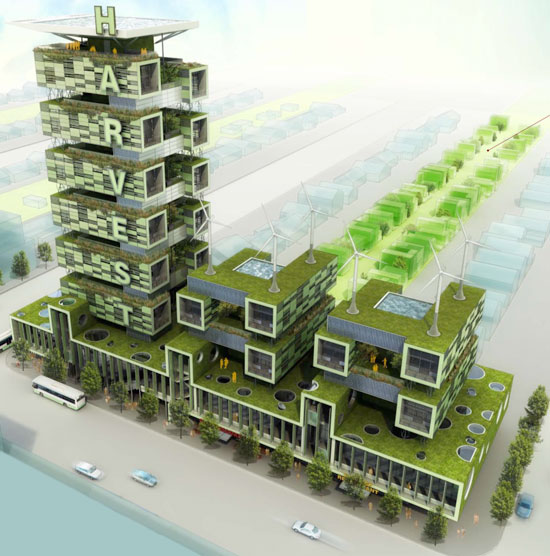 "The concept of 'harvest' is explored in the project through the vertical farming of vegetables, herbs, fruits, fish, egg laying chickens, and a boutique goat and sheep dairy facility. in addition, renewable energy will be harvested via green building design elements harnessing geothermal, wind and solar power. the buildings have photovoltaic glazing and incorporate small and large-scale wind turbines to turn the structure into solar and wind-farm infrastructure.' – via designboom. (images also via designboom)