Why did I choose to be a Residential Architect?
I found myself speaking to a room full of my peers at the CRAN (Custom Residential Architecture Network) Symposium a couple months ago and one of the first slides of my presentation asked the question, "How did you go from working on huge steel structures to residential architecture?" This is the first question most people ask when they hear about the project I was working on before I started my own firm….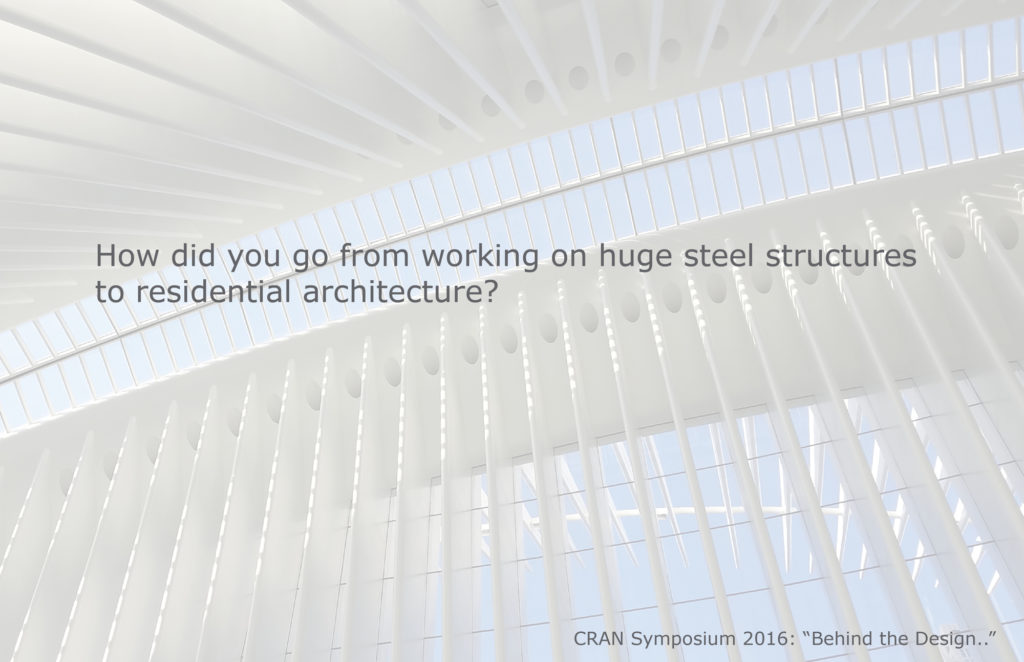 Today's post is part of the ArchiTalks series in which a group of us architects write about the same topic on the same day and share each other's posts. These group posts are a great way to promote our peers and talk about the value of architecture. Today's theme – courtesy of our ringleader Bob Borson – is "From Then to Now" or, "what you thought you'd be doing when you graduated vs what you're actually doing." Be sure to check out the links to our friends' posts below!
Forgive me if you've heard my story before – Over the past 3 years blogging in The Architect's Notebook I've written a bit about why I love being a residential architect and how I didn't exactly start out heading in that direction. So I'll tell the story this time through my favorites of those prior posts…
My "First Project"
When I first got out of school I didn't think I wanted to do residential architecture at all. I thought I wanted to build bridges or sports complexes… I got a job working for a well-respected architecture firm in Tampa and began working on anything I could get my hands on. Some were very fun, and some a little less so…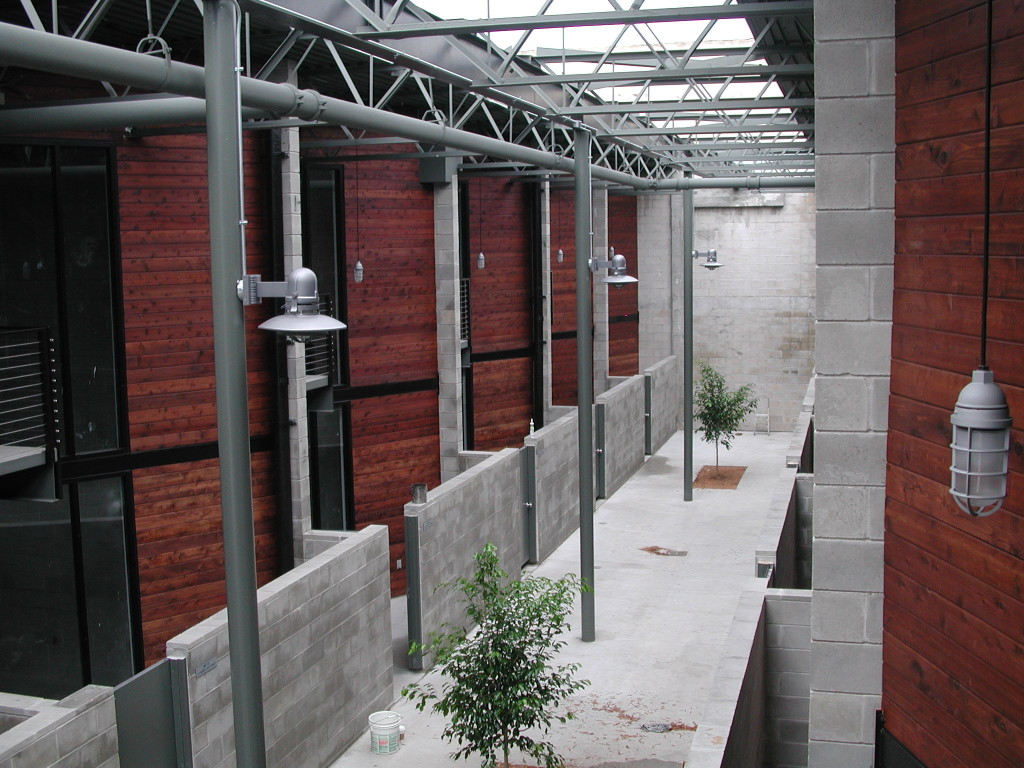 Channelside 212 Loft Project, Tampa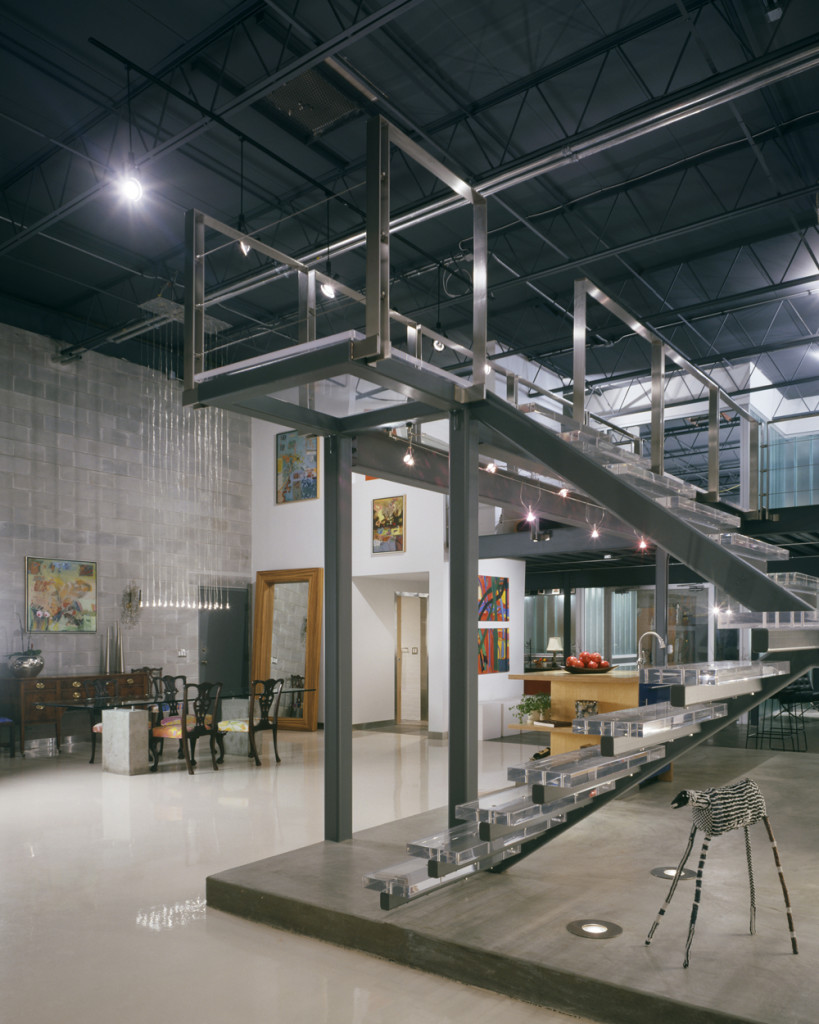 I remember one of the buyers, who was extremely excited about all of it and loved our design, stopped me at one point and asked if I was really sure it was a good idea to have exposed concrete floors and exposed block walls. We had been working together for a few weeks on custom details for their space, so I was getting to know better what they liked and how they lived. We talked more about the materials and the space, and the conversation ended with her saying, "Ok, if you think we'll like it then I'm sure we will." They trusted me. And after they moved in they told me how much they loved it.
Why I Love My Craft: Residential Architecture
My first job out of design school taught me the most about architecture. I was in a firm that gave us more responsibility than we could have asked for, challenging us to learn as much as possible about any and everything related to design. We were encouraged to use the furniture shop that our firm also owned and "get our hands dirty" making and creating things.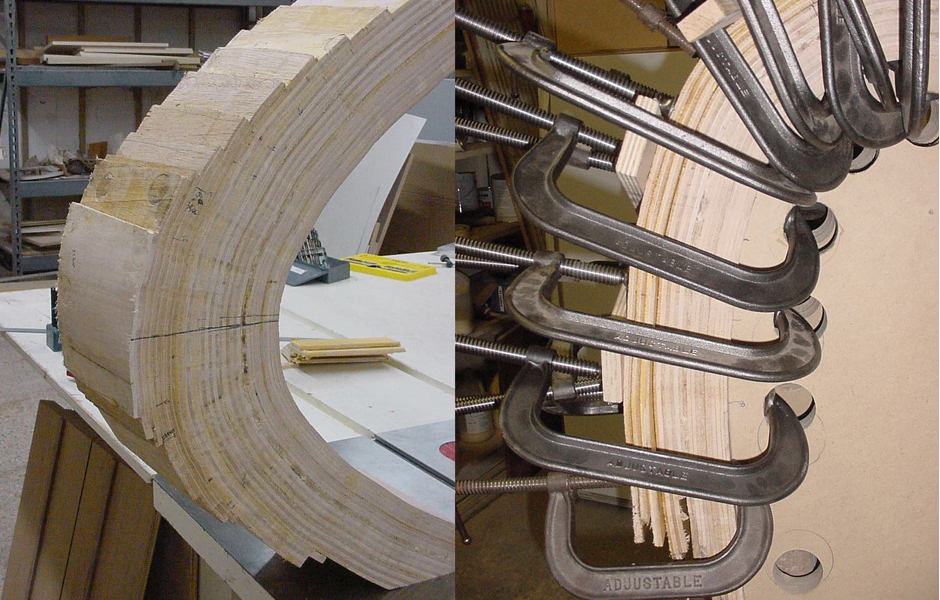 This is when I fell in love with architecture as a craft.
Making furniture taught me about materials and details and how things go together. Designing furniture made me think about how we as individuals use space – how we move through a space, how we converse, how we sit in a chair and read, how we sit at a desk and work, and how we live day to day…
In 2003 I moved to New York City to pursue my Masters of Architecture degree at Parsons School of Design. I fell in love with all of the excitement and hustle and bustle of the city, and after I graduated decided to make NYC my permanent home. Following my dreams of one day designing bridges I had to apply to work for Santiago Calatrava when I saw the job posting online in early 2007. I worked in Calatrava's New York office for 3 years from 2007 through 2010.
From Dreams to Reality – THIS is Exciting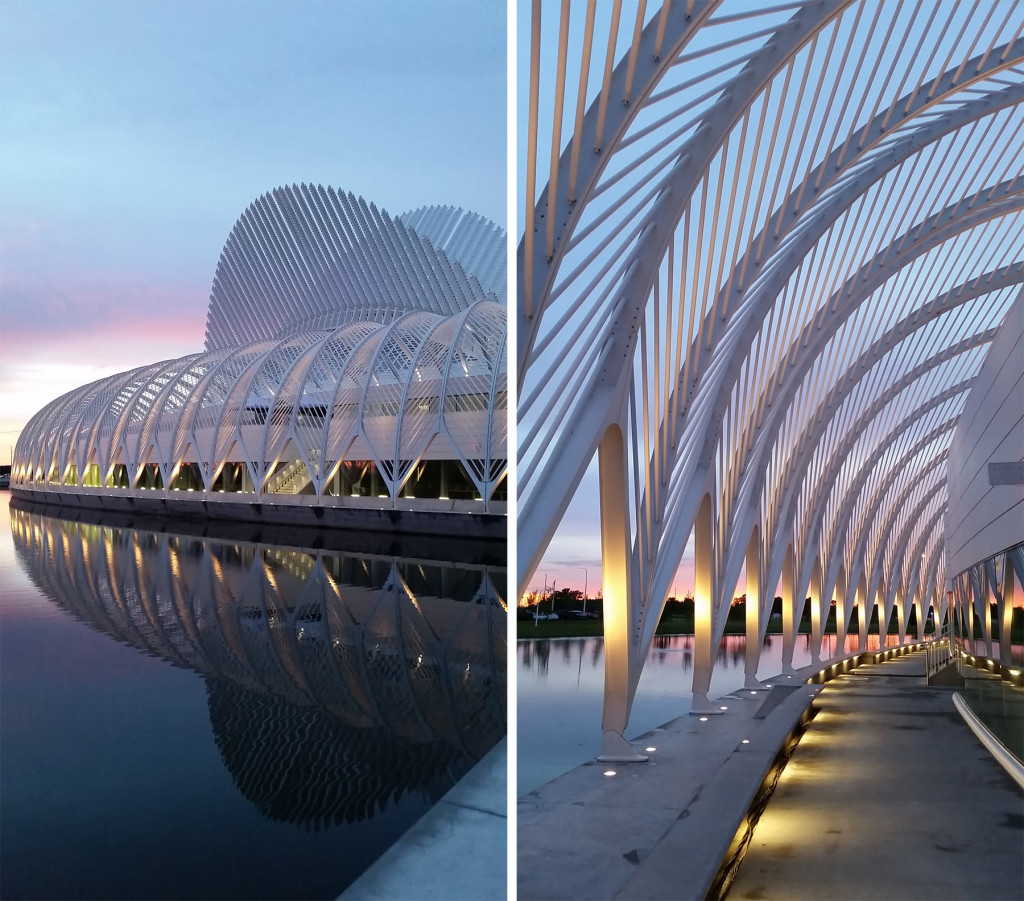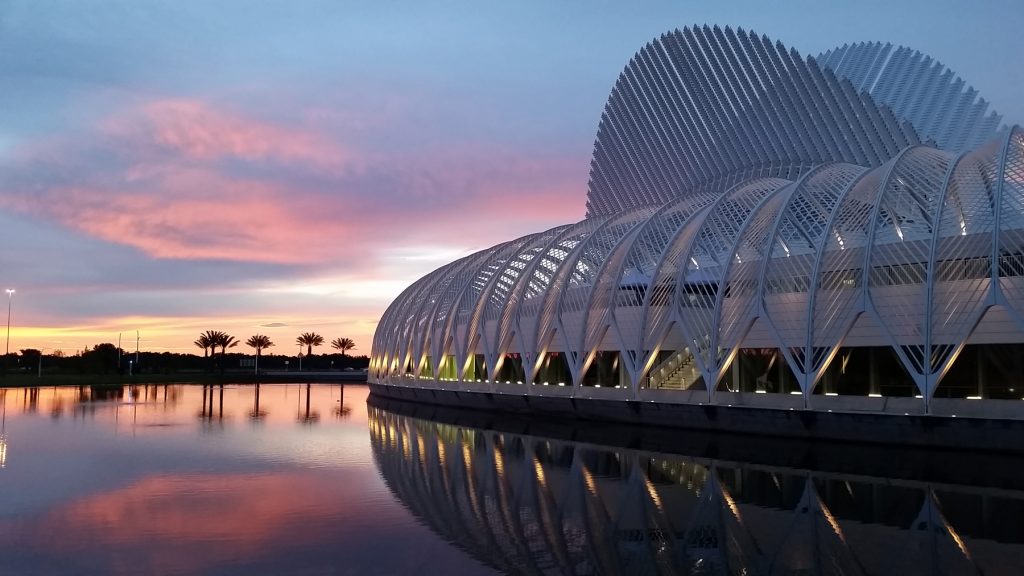 …Even more than the amazing architecture, I'm excited to share this story here because I was a part of this project from the very beginning… When I worked for Santiago Calatrava I was part of the team that brought this project into the office… And on Friday I got to see so much excitement from the community, and hear the ambitious stories from the students, and watch the smiling faces of the many that are so proud to work in and around the building. Architecture is exciting. And it makes a difference in people's everyday lives.
It was while I was in Calatrava's office and began working with he and his wife on their own home that I realized my biggest interest was in residential architecture. So I left Calatrava's office in early 2010 and founded Studio MM…. From that point, well, it is still an ongoing adventure and I absolutely love what I do!
Reflecting on Design : Lake Wylie House
We started designing the Lake Wylie House over 2 years ago and it's now almost complete and looks amazing! On the flight back I was remembering some of our initial meetings and noting how very far we've come from that point. In the past 2 years I have gotten to know my clients and their 2 boys much better and so, to see them truly excited about their new home makes me extremely happy. I know, I know… I say this a lot about the process of working with my clients,  but the very best thing about being a residential architect is seeing my clients genuinely excited about their home!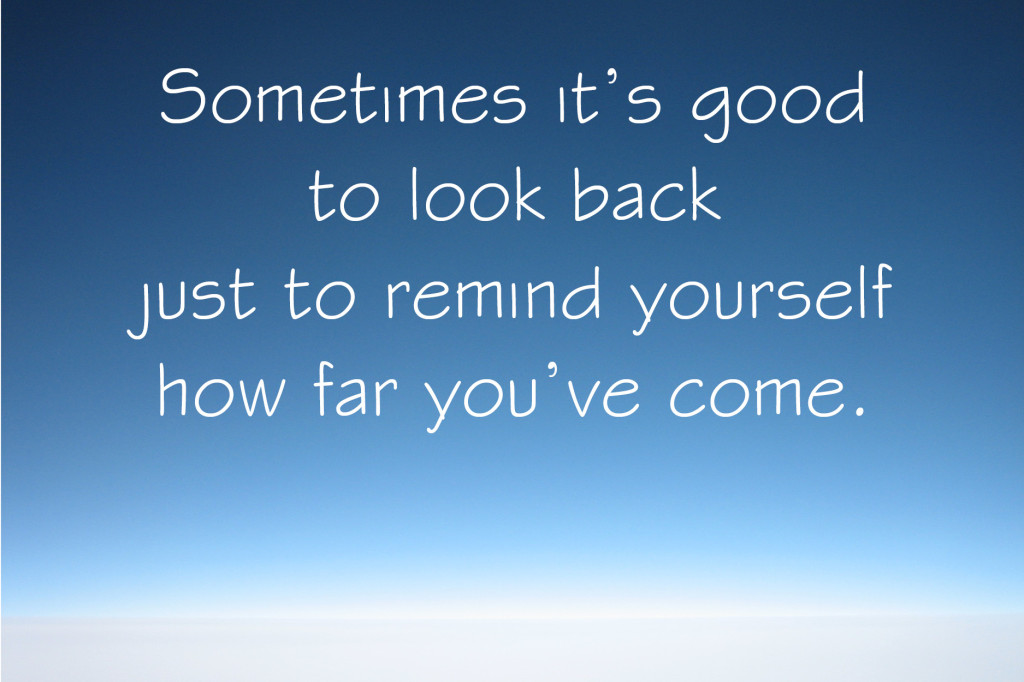 Check out more ArchiTalks links from our colleagues below!
Bob Borson – Life of An Architect (@bobborson)
Then and Now – Architectural Design or Accounting
Matthew Stanfield – FiELD9: architecture (@FiELD9arch)
Where It All Went Right
Jeff Echols – Architect Of The Internet (@Jeff_Echols)
Well, How Did I Get Here
Mark R. LePage – EntreArchitect (@EntreArchitect)
The Biggest Surprise of My Life as an Architect
Lora Teagarden – L² Design, LLC (@L2DesignLLC)
Then & Now…and the middle
Nicholas Renard – Renard Architecture (@dig-arch)
15 Years of Architecture
Lee Calisti, AIA – Think Architect (@LeeCalisti)
then and now
Emily Grandstaff-Rice – Emily Grandstaff-Rice FAIA (@egrfaia)
Being the light in darkness
Eric T. Faulkner – Rock Talk (@wishingrockhome)
Then-Now: A Schematic Story
Stephen Ramos – BUILDINGS ARE COOL (@sramos_BAC)
Big Ass Buildings
brady ernst – Soapbox Architect (@bradyernstAIA)
Pens & Fizzy Drinks: Or How to Set Measurable Career Goals
Brian Paletz – The Emerging Architect (@bpaletz)
How did I get here?
Michael LaValley – Evolving Architect (@archivalley)
Reflection on My Wonderful, Unexpected Career
Jarod Hall – di'velept (@divelept)
The Joys of Being an Architect
Anthony Richardson – That Architecture Student (@thatarchstudent)
Then and Now
Kyu Young Kim – Palo Alto Design Studio (@sokokyu)
Career Path: Follow Your Heart
Michele Grace Hottel – Michele Grace Hottel, Architect (@mghottel)
then and now
Nisha Kandiah – TCDS (@SKRIBBLES_INC)
Then & Now : Still Chasing the Dream
Jim Mehaffey – Yeoman Architect (@jamesmehaffey)
The Reluctant Code Guru
Tim Ung – Journey of an Architect (@timothy_ung)
10 Lessons Learned from a Young Architect
Mark Stephens – Mark Stephens Architects (@architectmark)
#Architalks 22 – Then and now
8 Comments