Summer break is like the "extreme sports" of architecture… Let me explain:
I remember when my sister and I were young Summer Break was the best time of the year. Of course it was! We would swim, ride bikes, make forts out of the couch cushions, jump on the trampoline, do arts and crafts with mom… and most days I think we did all of these in the same day! As a kid, Summer Break was exciting. As an architect, Summer Break is almost just as fun now as it was then!
Picture this: A sunny Summer Saturday (4th of July weekend?!): Neighbors, extended family, friends, lots of kids, running, swimming, grilling, dogs chasing kids, kids chasing kids, balls, floaties, popsicles… Sound familiar? Your home is in high gear…Extreme architecture mode.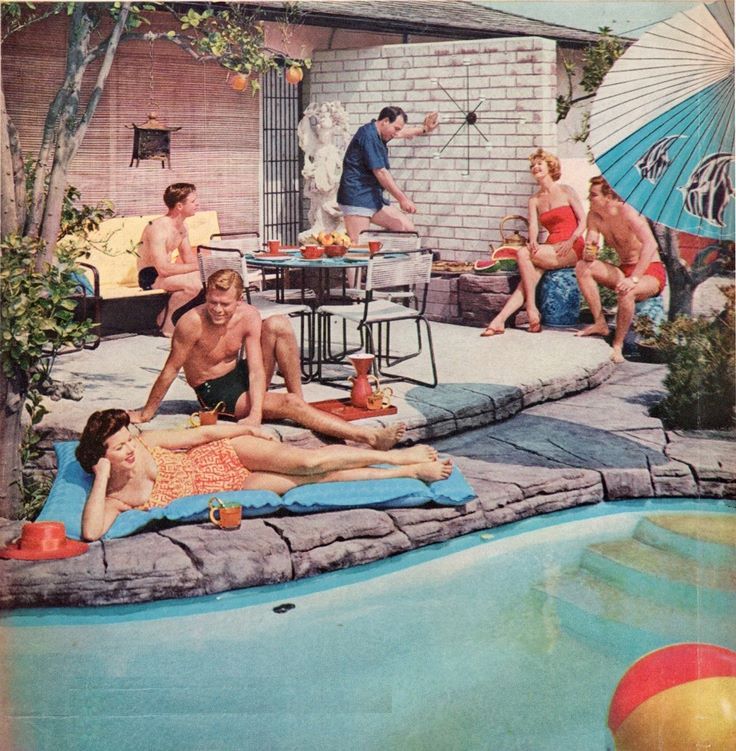 Note: the "kids chasing kids and dogs chasing kids" part is obviously happening quietly behind the scenes in this image…
As a residential architect, when we are designing your home, we are playing through as many scenarios as we can come up with for all the ways your home needs to function for your family. This is why we ask you questions before we begin, and why we like to have long discussions over "Do you like to entertain? If so, where?" and "Where will your kids play?" and "Tell us about how you spend your holidays…"
Our clients for the Lake Wylie House began their discussion about the design for their home with, "We like to be outside." The boys love to swim – and so do the parents, actually – so we've designed the pool as the center of activity. There's a covered patio with a built in grill and space for plenty of neighbors. There's a porch swing on the side for anyone who prefers a break from the chaos. We've even got a shallow section of the pool we've dubbed "Dog Wading Pool." We're ready for anything!
As an architect we get to imagine all the fun you could ever have in your home, and design for it. We are designing for Summer Break: all possible activities, all at once, lots of people, for days at a time… Extreme Architecture. We love it!
Hope you have an extremely FUN Summer Break!
***********************
Today's post is the 10th for our ArchiTalks series in which a group of us (architects who also write a blog) post about the same subject on the same day. Today's theme is certainly fitting – "Summer Break."  ArchiTalks is a fun way to share our passion for architecture and support our profession. Please visit my colleagues' pages below as they give you their thoughts on Summer Break:
Bob Borson – Life of An Architect
@bobborson
Architectural Bucket List
Matthew Stanfield – FiELD9: architecture
@FiELD9arch
SummerBreak?
Jeff Echols – Architect Of The Internet
@Jeff_Echols
Summer Break and Aunt Loretta
Lee Calisti, AIA – Think Architect
@LeeCalisti
summer break
Mark R. LePage – Entrepreneur Architect
@EntreArchitect
2 Simple Systems That Will Transform Your Studio
Lora Teagarden – L² Design, LLC
@L2DesignLLC
Vacationing with an Architect
Cormac Phalen – Cormac Phalen
@archy_type
MILES AND MILES OF ROAD
Andrew Hawkins, AIA – Hawkins Architecture, Inc.
@hawkinsarch
Summertime
Jes Stafford – Modus Operandi Design
@modarchitect
Summer Getaway
Rosa Sheng – Equity by Design / The Missing 32% Project
@miss32percent
#Architalks 10 – Give me a Break!
Michele Grace Hottel – Michele Grace Hottel, Architect
@mghottel
#Architalks 10 – ""summer break""
Meghana Joshi – IRA Consultants, LLC
@MeghanaIRA
Architalks: There, but not there
Amy Kalar – ArchiMom
@AmyKalar
Summer Break
Michael Riscica – Young Architect
@YoungArchitxPDX
The Architecture Students Summer Break
Stephen Ramos – BUILDINGS ARE COOL
@sramos_BAC
Architect: Gift or Curse?
brady ernst – Soapbox Architect
@bradyernstAIA
The Education of an Architect
Brian Paletz – The Emerging Architect
@bpaletz
Summer Vacation
Tara Imani – Tara Imani Designs, LLC
@Parthenon1
A Brilliant Summer Break
Eric Wittman – intern[life]
@rico_w
summer break [or] summer school
Sharon George – Architecture By George
@sharonraigeorge
Summer Break #ArchiTalks
Brinn Miracle – Architangent
@simplybrinn
Summer Break
7 Comments