Architects love to think they are fabulous photographers… (just look at our instagram accounts!) – and to be honest I do love taking pictures… But I know my limits. When it comes to documenting our work I know we should be working with a professional.
"When you invest in good photography, you invest in future success." – Brad Feinknopf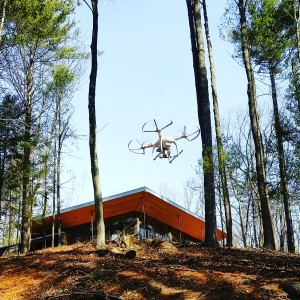 We recently worked with Brad Feinknopf and Lauren Davis to photograph our Lantern House project in Upstate NY.
I have to say I totally lucked out on this photo shoot. Brad said he was going to bring another photographer from his office, Lauren, because "she flies the drone."
Yep, a girl with a drone. I love it already! Brad and Lauren have been working together for a long time, and it shows: they think the same way, they work the same way, they work together brilliantly… To say the least, the entire experience was wonderfully successful and a lot of fun!
Architecture AND Photography
As with almost everything I do in architecture, our photo shoot was a collaboration. Brad and I walked around the house and talked about the story behind the design, and then they got to work. As they were setting up for a shot, we'd discuss the angle and what Brad was trying to show. They often would take a few, what I'll call, "prep" shots and then ask me what I thought. I was right there with them (standing out in the freezing cold!) for most of the process. I loved it – to see the house through the eyes of masterful photographers was a truly special experience. Not only was it cool to watch them work, but they were capturing all of those moments that I was so excited about while I was designing the house. As I've mentioned many times, I get very into my work. As I'm sketching, I'm thinking of the ways a homeowner will live in their home – I think through all the intricacies of the design. Then as the project moves on, the process is filled with details like making sure the plumbing is in the right place before the concrete is poured, where the outlets go in the kitchen backsplash, whether the fixtures align in the bathroom… the focus shifts to getting the project built on time and making sure its built right.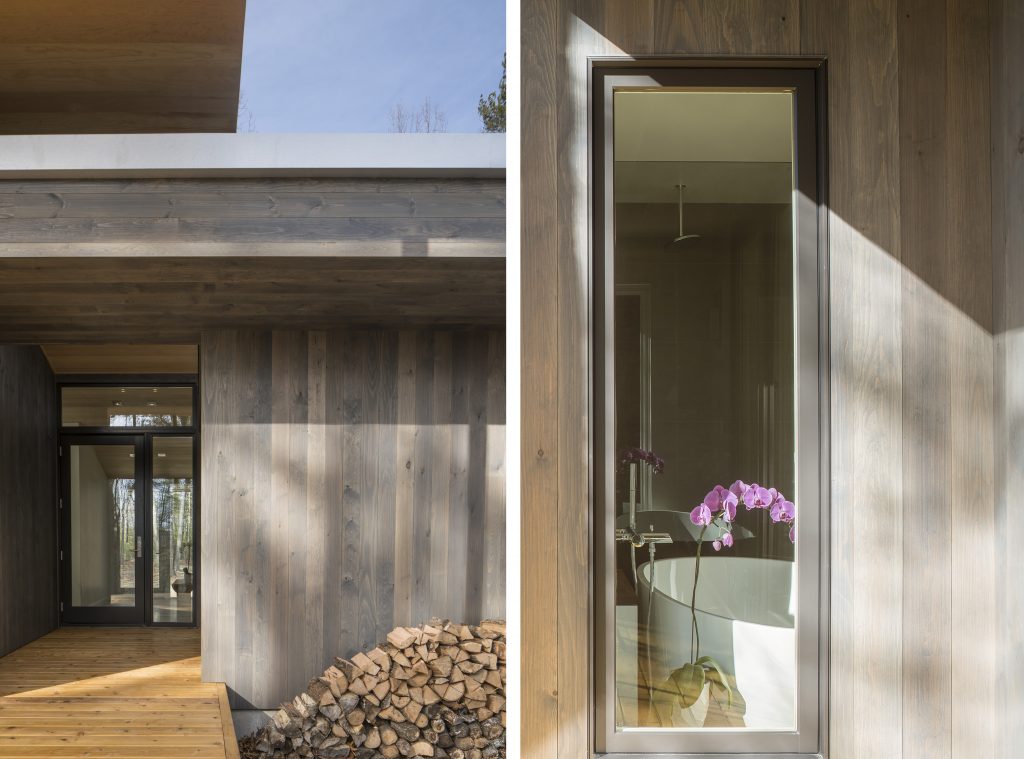 The best part about working with Brad and Lauren was their ability to see those very special design moments. The "star" photographs are perfect and amazing and I am very proud to present them first as one visits my website. They're gorgeous. But I have to admit, the ones that "speak to me" the most resulted from Brad walking around with his camera and capturing "surprise" moments… I told him about the house on the hill and the "lantern" for which the house was named, and I took them down to a spot across the pond where I always stop to look at the house through the trees. Yes, that photo does capture the concept of the design, but Brad had his own "lantern" shot in mind. At the end of one day he mentioned there was one more shot he wanted to try… It was one of the most exciting moments for me to be watching behind the camera and computer as Brad and Lauren created the photograph below.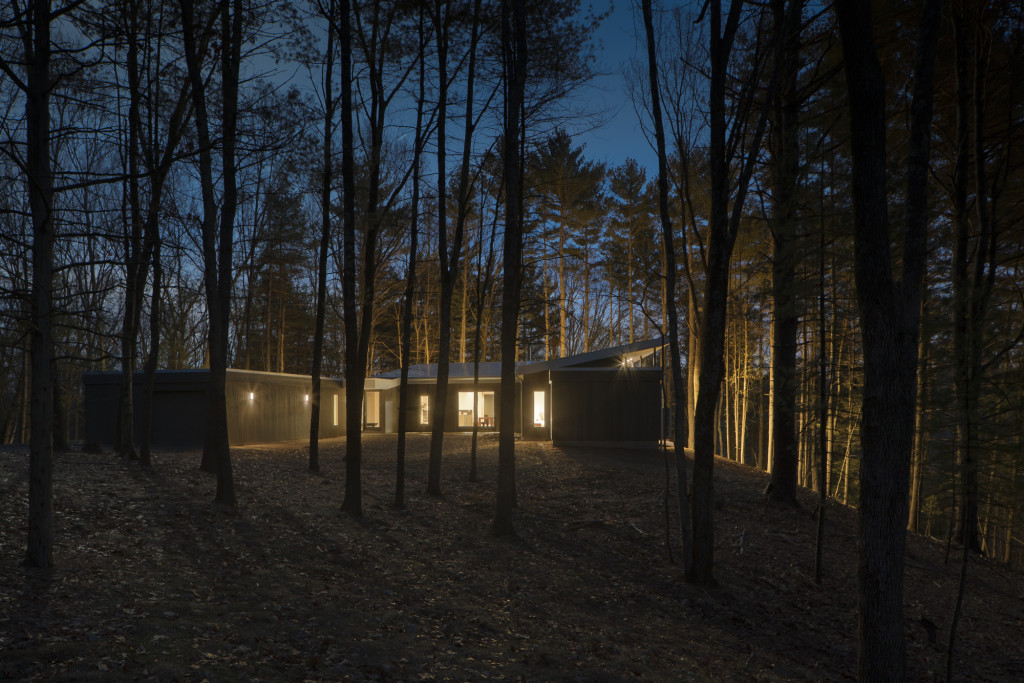 Sure, I can take good pictures. But to show off my work I want WOW. And thanks to Brad and Lauren, I think we got it!
An excellent quote about why the photography of our architecture matters so much… from Brad's blog:
"Architects live and die by the images taken of their work; as these images alone are what people see. For every one person who visits a private house, there may be ten thousand who only view it as a photo." – Read more "Musings of an Architectural Photographer" here.
Today's post is part of the ArchiTalks series in which Bob Borson of Life of an Architect selects a theme, and a bunch of us architects (who also write a blog) post on the same day at the same time… This month our theme is Architecture and…
Please visit our friends' posts below:
Bob Borson – Life of An Architect (@bobborson)
Life of an Architect
Jeff Echols – Architect Of The Internet (@Jeff_Echols)
Architecture and a Future Without Architects
Lee Calisti, AIA – Think Architect (@LeeCalisti)
architecture and __
Lora Teagarden – L² Design, LLC (@L2DesignLLC)
Architecture and Travel
Jes Stafford – MODwelling (@modarchitect)
Architecture and Gaming
Collier Ward – One More Story (@BuildingContent)
Architecture and Storytelling
Eric T. Faulkner – Rock Talk (@wishingrockhome)
architecture and m&ms
Rosa Sheng – EquitybyDesign [EQxD] (@EquityxDesign)
Architecture And the Era of Connection
Michele Grace Hottel – Michele Grace Hottel, Architect (@mghottel)
#ArchiTalks 18: architecture and… the bigger picture
Meghana Joshi – IRA Consultants, LLC (@MeghanaIRA)
Architalks 18: Architecture and Mathematics
Amy Kalar – ArchiMom (@AmyKalar)
Architalks 18: Architecture and … Parenting
Michael Riscica – Young Architect (@YoungArchitxPDX)
Architecture and Yoga
brady ernst – Soapbox Architect (@bradyernstAIA)
Architecture and Ego
Michael LaValley – Evolving Architect (@archivalley)
Architecture and Ego / The Architect's Unique Struggle with 'Good' Design
Sharon George – Architecture By George (@sharonraigeorge)
Architecture and Kids
Emily Grandstaff-Rice – Emily Grandstaff-Rice FAIA (@egrfaia)
Architecture and More
Jarod Hall – di'velept (@divelept)
Architecture and the Myth of the Master Builder
Jeffrey A Pelletier – Board & Vellum (@boardandvellum)
Architecture and Interior Design
Samantha Raburn – The Aspiring Architect (@TheAspiringArch)
Architecture and Wrestling
Keith Palma – Architect's Trace (@cogitatedesign)
Architecture + Memories
Adam Denais – Defragging Architecture (@DefragArch)
[#ArchiTalks 18] Architecture and Strange Travel Etiquette
Jim Mehaffey – Yeoman Architect (@jamesmehaffey)
Architecture and…my Generation.
4 Comments