I believe architecture can be both a catalyst for change as well as a product of change. As a residential architect we focus on the ways our clients lives are changing, and may change in the future, as the inspiration for designing their homes.
Today's post is part of the ArchiTalks series in which a group of us architects write about the same topic on the same day and share each other's posts. These group posts are a great way to promote our peers and talk about the value of architecture. Be sure to check out what our friends are writing in the links at the bottom of this post!
Architecture of Change : Downsizing
We've had several people reach out to us with the intention of starting a new chapter in their lives and wanting to downsize their home. One couple are soon to be "empty nesters" and are very much looking forward to this change! They've told me people ask them why they've only planned one bedroom. I love the response… With a smile she says, "Why do you think?!" …One bedroom, a large living room where they can relax and enjoy life in the country, and a studio space where they will probably spend most of their time – painting, crafting, designing… all the things they most looking forward to in this new chapter of their lives. Architecture of change:
"The central living space allows our clients to host small gatherings, but the single bedroom and artist's studio crystallize the focus of [the house] – introspection and personal fulfillment."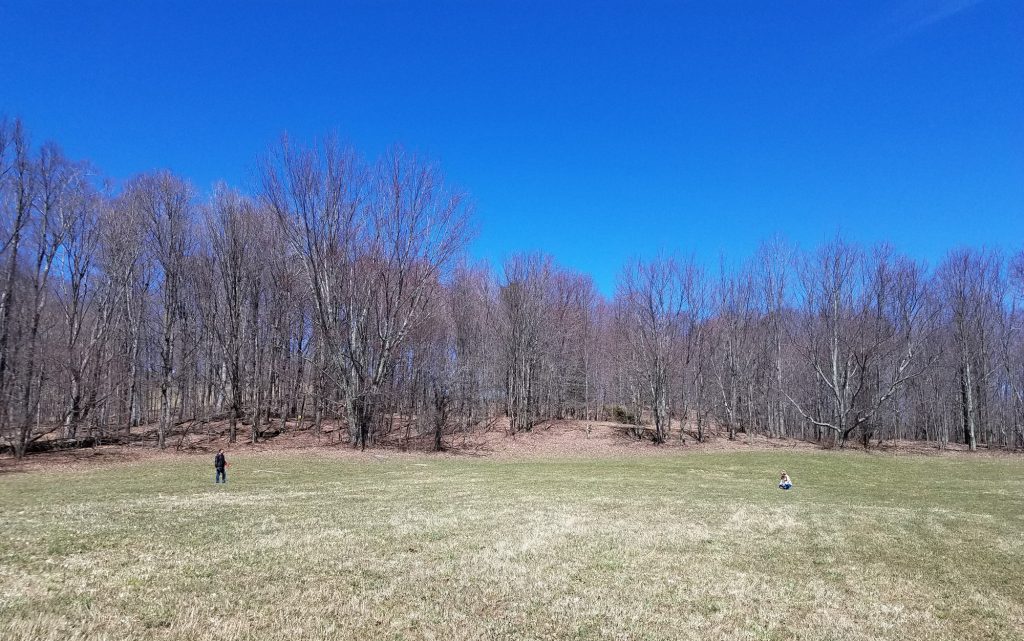 The black and white tiny figures in the grass above are my clients holding either end of a long measuring tape, figuring out the best spot for their house on their property. And below is the view from the house. Stunning!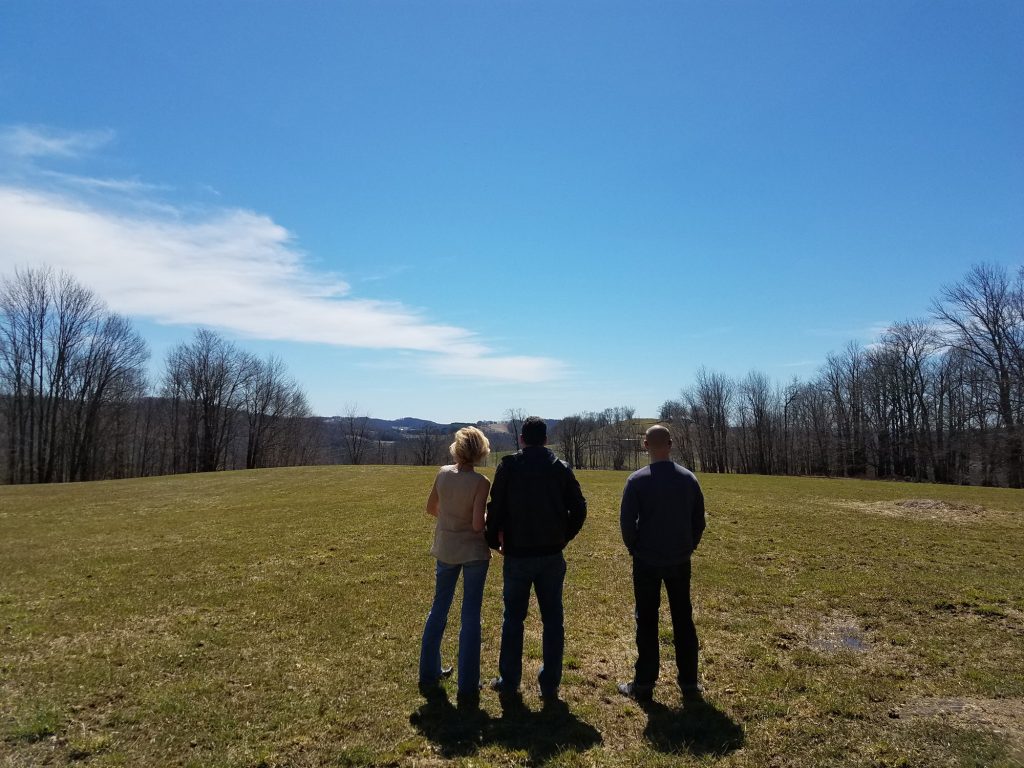 Architecture of Change : Upsizing
Planning for your growing family… Many of our clients are on the other end of the spectrum and are planning for their future families… One newlywed couple came to us with dreams of a large family and extensive Thanksgiving gatherings. They actually weren't yet married when we started designing their home, so this dream home was all about plans for future, for family, and for growing into all of life's changes…for better or for worse. 🙂
Another couple we just recently met is looking for something similar. They have a new baby, a sketched "wish-list" for their future family farmhouse, and dreams of their kids coming home one day with their kids… Designing for generations: A "forever home" and then some.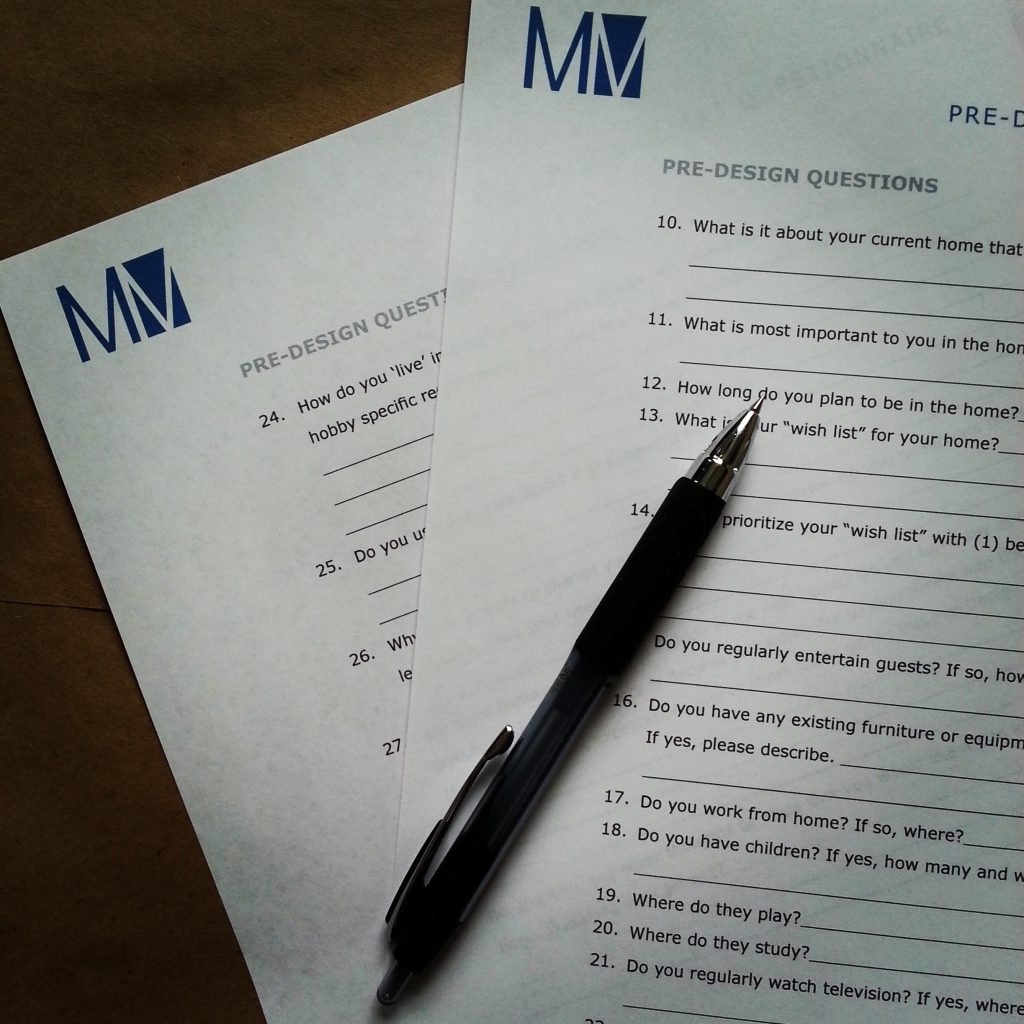 Starting a new chapter in life…  We all know how exciting and scary these changes can be. Designing for these moments in our clients lives is the thing I love most about architecture. Building a new home is a very exciting time in each of our clients' lives. I am always humbled and grateful that our clients put so much trust in us as we venture into a new chapter along with them.
*****
Architecture of Change. See what our colleagues have to say on the subject in the links below:
Lora Teagarden – L² Design, LLC (@L2DesignLLC)
Architect(ure) of Change
Collier Ward – One More Story (@BuildingContent)
Architecture of Change
Jeremiah Russell, AIA – ROGUE Architecture (@rogue_architect)
architecture of change: #architalks
Eric T. Faulkner – Rock Talk (@wishingrockhome)
Change — The Document Evolution
Lee Calisti, AIA – Think Architect (@LeeCalisti)
architecture for change
brady ernst – Soapbox Architect (@bradyernstAIA)
The Architecture of Change: R/UDAT
Michele Grace Hottel – Michele Grace Hottel, Architect (@mghottel)
architecture of change
Brian Paletz – The Emerging Architect (@bpaletz)
Architecture = Change
Michael LaValley – Evolving Architect (@archivalley)
My Architecture of Change / Hitting Pause to Redesign My Life
Brinn Miracle – Architangent (@architangent)
Architecture of Change: Building a Legacy
Samantha R. Markham – The Aspiring Architect (@TheAspiringArch)
3 Things I Hope Change in Architecture
Nisha Kandiah – ArchiDragon (@ArchiDragon)
The art of Architecture of Change
Jim Mehaffey – Yeoman Architect (@jamesmehaffey)
Changes
Mark Stephens – Mark Stephens Architects (@architectmark)
The Architecture of Change
Jeffrey Pelletier – Board & Vellum (@boardandvellum)
Imagining the Future of Architecture
Collier Ward – One More Story (@BuildingContent)
Architecture of Change
3 Comments