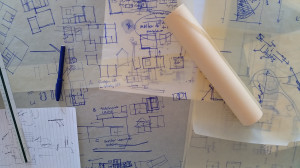 One of my favorite "tools" as an architect is sketching with pen and paper. I do find that in many meetings, whether with a client, contractor or friend, a quick sketch is one of the best ways for me to communicate an idea.
But beyond a basic sketch, there are 3 Tools that I use in my business that I believe greatly enhance communication and collaboration with our clients.
As we've said many times, getting our clients engaged and involved early in the design process makes for a much more successful project.
Colored Drawings
We like to use color as a way to highlight parts of our presentation. I select one or just a few drawings and spend a few minutes coloring with pencils or markers. To be honest this tool is actually helpful for both me and my clients. I use the time I spend sketching and coloring as time to think through the design. As I color I am thinking through scenarios of how our clients will use their home… For example, in the sketch below, I used color to highlight the exterior areas of our clients' house.  I wanted to focus our discussion on how guests will enter their home, where they will park, where they will stay… and somehow color on the paper is much more fun to talk about – and imagine – than limitless white space around a plan.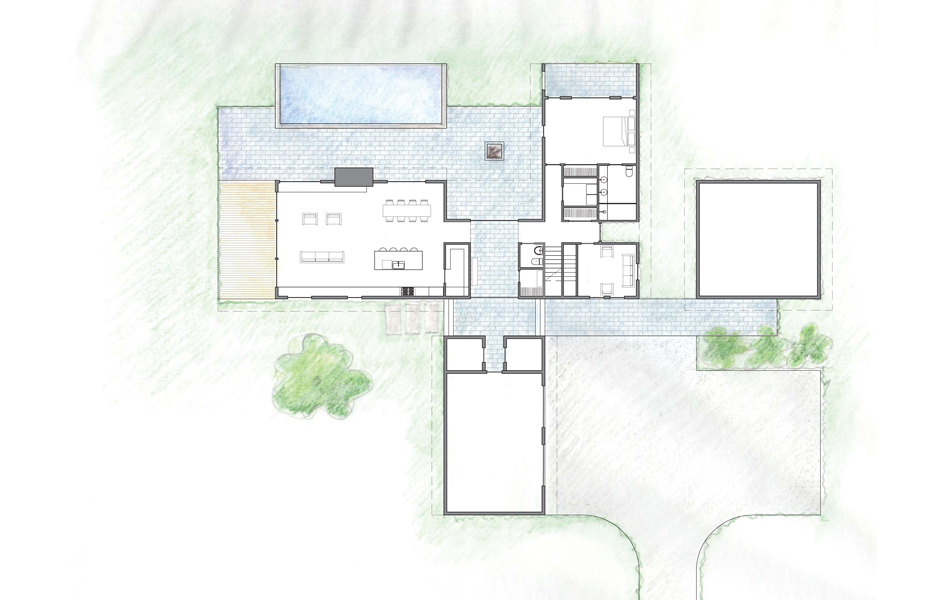 Models
We find that creating a 3D computer model of our projects is another tool that helps our design process immensely – both in our office and with our clients. During the initial design phase we "think" simultaneously in 2D and 3D. From sketches to drawings to models we go back and forth among all 3 as we work through ideas for your home.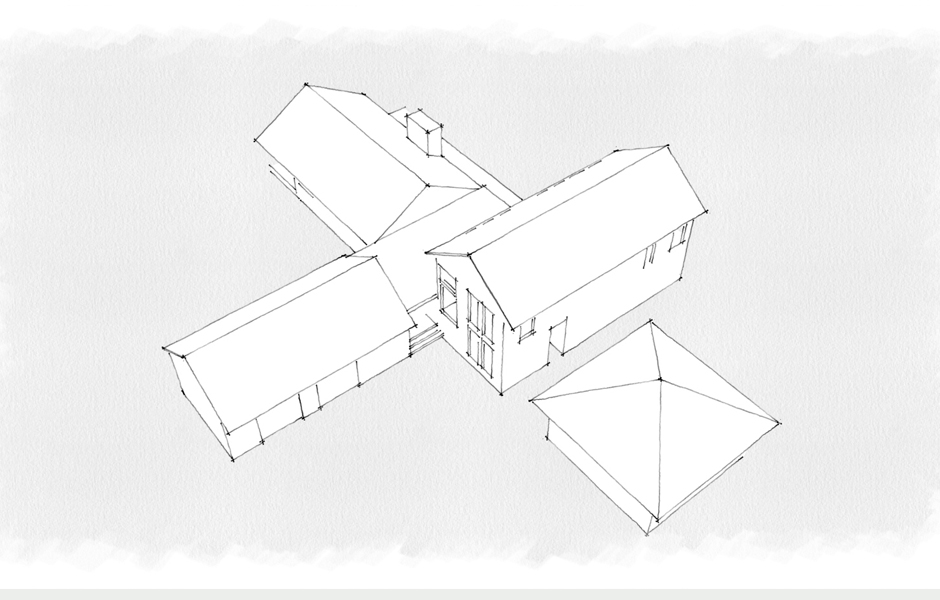 Sharing these models with our clients is an excellent way to get them actively involved in the process. The "tool" part here is much more than simply a 3D model – our computer and program setup allows our clients to literally be "at the controls." Talk about engaged – in every case where we've presented a model this way the client has jumped right in and happily moved themselves around and through their home. It's as easy as moving your finger on the screen.
We often hear from our clients that they have a hard time envisioning what their house will look like when it's built. Beyond mere visual understanding, these interactive models are always a highlight and truly give our clients ownership of their design.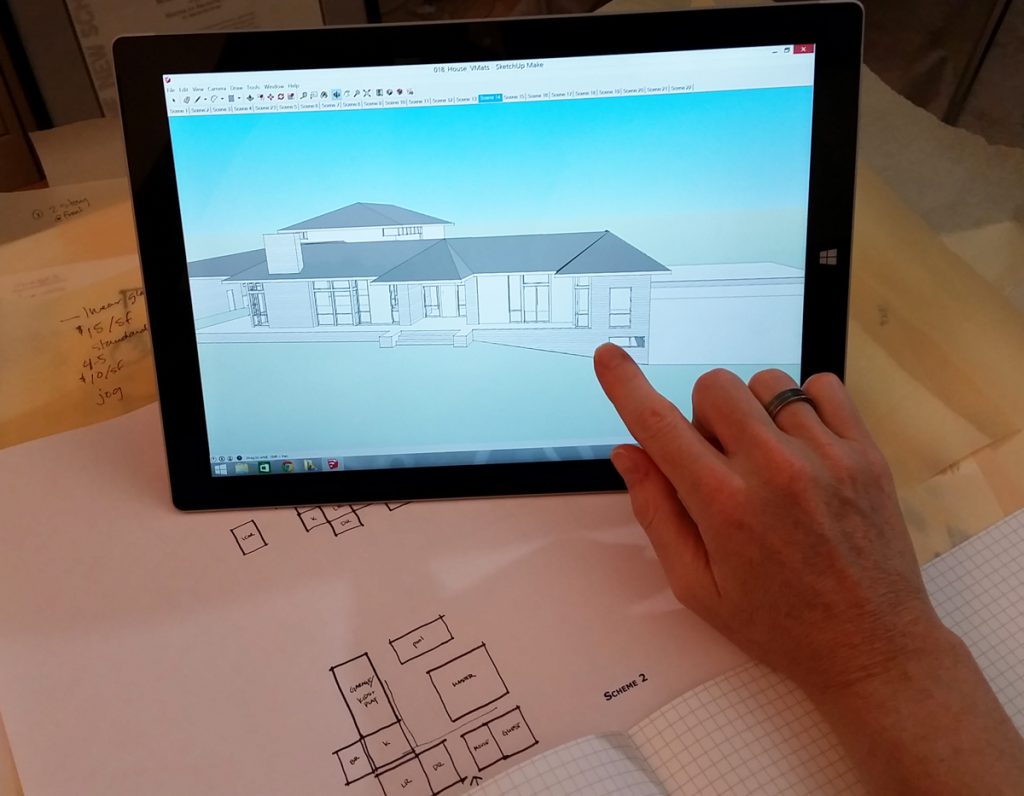 Vignettes
Before letting our clients loose with their fingers on the model, I begin our meetings with vignettes – or specific views – through the house. We select moments that illustrate important design elements, features our clients are considering, or ideas we want to introduce. A vignette gives a much greater understanding of "being in that space" and is a perfect way to focus the conversation first on small moments. With these vignettes, we're all looking at the same part of the design. I have learned that when I put 3 overall schemes down in front of clients it's hard to get the conversation going. It's overwhelming. If I want our clients to be engaged in our design process, we need to make sure they can completely understand our ideas so they're comfortable contributing. No question this makes for a much more successful project overall!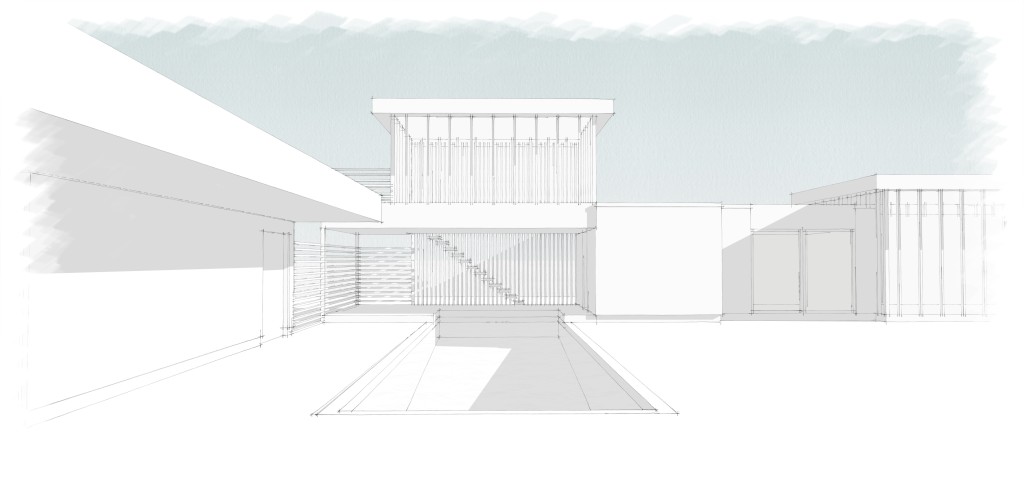 Today's post is part of the ArchiTalks series in which Bob Borson of Life of an Architect selects a theme, and a bunch of us architects (who also write a blog) post on the same day at the same time… This month our theme is "Tools." Architects and their tools should be a fun theme to read through. Please visit our friends' pages below to read their stories:
Bob Borson – Life of An Architect (@bobborson)
http://www.lifeofanarchitect.com/the-tools-of-an-architect/
Jeff Echols – Architect Of The Internet (@Jeff_Echols)
The Best Tool In Your Toolbox
Lee Calisti, AIA – Think Architect (@LeeCalisti)
tool
Lora Teagarden – L² Design, LLC (@L2DesignLLC)
The Tools That Help Make #AREsketches
Jeremiah Russell, AIA – ROGUE Architecture (@rogue_architect)
tools #architalks
Jes Stafford – MODwelling (@modarchitect)
One Essential Tool
Eric T. Faulkner – Rock Talk (@wishingrockhome)
Architools – Mind Over Matter
Rosa Sheng – Equity by Design (@EquityxDesign)
10 Power Tools to Kickstart Equitable Practice
Michele Grace Hottel – Michele Grace Hottel, Architect (@mghottel)
#ArchiTalks 17 "Tool"
Meghana Joshi – IRA Consultants, LLC (@MeghanaIRA)
Tools of an Architect #Architalks 17
Amy Kalar – ArchiMom (@AmyKalar)
ArchiTalks #17: Three Tools for Change
Brian Paletz – The Emerging Architect (@bpaletz)
Can we talk?
Michael LaValley – Evolving Architect (@archivalley)
Why An Architect's Voice Is Their Most Important Tool
Eric Wittman – intern[life] (@rico_w)
it's ok, i have a [pen]
Brinn Miracle – Architangent (@simplybrinn)
Synergy: The Value of Architects
Emily Grandstaff-Rice – Emily Grandstaff-Rice FAIA (@egrfaia)
Tools for Learning
Jarod Hall – di'velept (@divelept)
Something Old and Something New
Greg Croft – Sage Leaf Group (@croft_gregory)
Tools…
Jeffrey A Pelletier – Board & Vellum (@boardandvellum)
Helpful tools found within an Architecture blog
Aaron Bowman – Product & Process (@PP_Podcast)
Sharpen Your Tools
Kyu Young Kim – Palo Alto Design Studio (@sokokyu)
Super Tool
Jared W. Smith – Architect OWL (@ArchitectOWL)
Construction: An Architect's Learning Tool
Keith Palma – Architect's Trace (@cogitatedesign)
(CTRL A) (Command-A)- Edit
6 Comments