This is the fourth post in a 5-part series describing the How To's of Working with a Residential Architect. So far we've been through How to Get Started; Making Sense of Services and Fees; and The Design Process. Now it's time to make Design Decisions on the Details of your home.
After the architect and client have created the best possible scheme for the client's home and concluded the Schematic Design Phase, the project moves into the Design Development Phase. As the name suggests, this phase entails further development of floor plan, elevation and section drawings with design details and decisions on finishes and fixtures.  This phase will define and describe all of the materials and systems in your new home.
Design is in the Details
One of my favorite design details for a house we recently completed in Upstate NY is the glass backsplash in the kitchen. With a little VISION, even something as simple as a kitchen backsplash can make a significant difference in your home.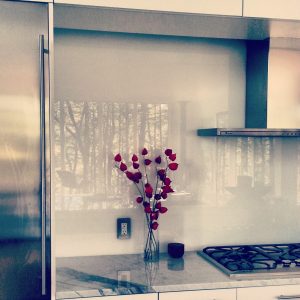 As this house is situated on a sloping hillside, one side of the home is partially buried in the ground while the other side opens up to the views and forest beyond. The open plan of the kitchen, dining and living rooms keeps the kitchen from feeling closed off, but one side is still "facing" the earth.
We selected a back-painted glass backsplash for the closed wall in the kitchen and designed hidden indirect lighting above. These details create a glow from the lighting, giving more of an "open window feel" on that side of the house; and a reflection of the exterior and views, further enhancing the focus on the outdoors.
Sustainable Design
Sustainability is not something that is applied to a design but rather should be an integral component from the very beginning. For example, during the Schematic Design Phase,  site characteristics such as orientation to the sun, shade, wind direction and local climate should inform the layout and facade of the home. Taking advantage of these natural resources – "passive design" – is the most effective and least expensive way to a more energy efficient home. An example of a "passive design" solution is capturing solar energy from sunlight entering your home and efficiently using that heat gain to supplement your "active" mechanical heating system.
Sustainability is one of the many VALUES an architect brings into the design of your home.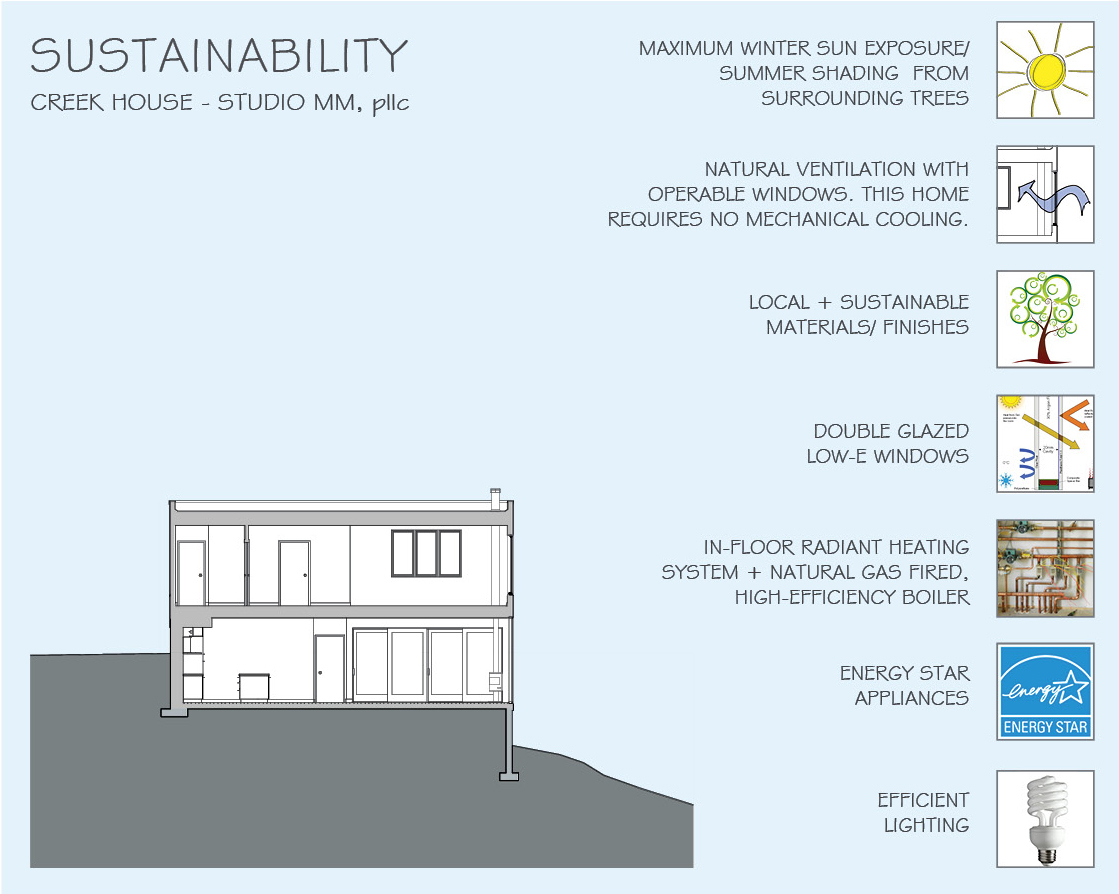 During the design development phase consideration should be given to the use of sustainable materials and  selection of energy efficient equipment and fixtures. Affordable, sustainable options for the home are no longer difficult to find. These days it's simple and attractive to save money!
Architect = Leader
Yes, more questions for you:
What kind of countertop would you and your family love in your kitchen? What kind of floors? What kind/ color of tile or stone would you like in your master bathroom? Freestanding bathtub or built-in? What kind of lighting fixture hangs over the dining room table?…
and many decisions to be made! BUT, your architect is there to lead you through the design, every step of the way. He or she will guide you through the process of selecting faucets, fixtures, flooring materials, countertops, cabinets, closets, kitchens…!
At the beginning of the Design Development stage Studio MM provides a checklist of everything that you'll need to select for your home – a cheat sheet, if you will, of all of the questions for which you'll need to determine an answer. This makes it very easy and straightforward, and when you get down to deciding on those intimate details for your home, you just might enjoy it! Designing your home should be a fun and exciting process!
For more from our Working with an Architect Series please follow the links below:
Part 1: Working with an Architect: How to Get Started?
Part 2: Working with an Architect: Making Sense of Services and Fees
Part 3: Working with an Architect: The Design Process
Part 5: Working with an Architect: Building Your Home
Find out more about Marica McKeel and Studio MM on our Studio page and more about our Approach to Design on our Design Process page.
Do you have any questions about Working with an Architect that I've not answered here? Please feel free to email me with any questions or if you would like more information on all things residential architecture: architect@maricamckeel.com