Modern Details
Today we're revisiting one of our more popular subjects in The Architect's Notebook, "Design is in the Details," and highlighting a new favorite house. (Remember, I have a lot of favorite things… amazingly designed residences is one I should add to the list.)
The Elizabeth II house by Bates Masi Architects: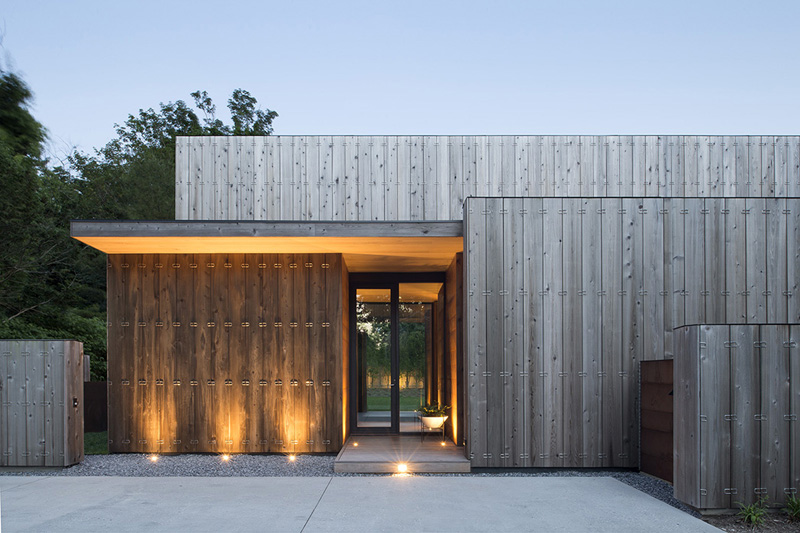 all images by Bates Masi Architects
Bates Masi, based in Sag Harbor, NY, is a firm whose work I greatly admire. I have highlighted their work in previous posts – actually in another Design is in the Details post as well. Their houses illustrate their incredible attention to detail.
Intricately Simple
I love the design of this house. It is simple, yet intricately designed with very specific program (including acoustic) requirements in mind. And the detail: "The custom stainless steel clips that attach the wide cedar board siding to the walls…" which also is used as cabinet pulls, robe hooks and hinges throughout the house. Simple. Brilliant. Beautiful.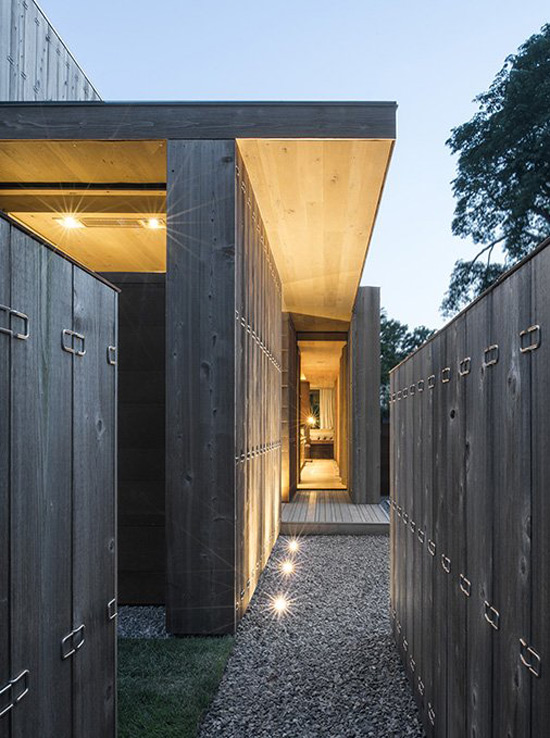 From Bates Masi Architects website:
"The custom stainless steel clips that attach the wide cedar bard siding to the walls were designed to prolong the life of the siding. Traditional wood siding eventually fails because the natural expansion and contraction of the wood is constructed by the screws or nails that rigidly fasten it in place…The spring-like clips, however, hold the boards in tension against the house while allowing freedom for the natural movement of the wood.
Inside, variations on the clips are utilized as robe hooks, cabinet pulls, and hinges for an adjustable sound baffle in the central gathering space. The hinges hang cedar boards in front of a felt panel with spaces between them. Sound waves pass through the gaps between the boards…and are absorbed by the felt. The hinges allow the spacing of the boards to be adjusted so the room can be acoustically tuned for intimate gatherings or boisterous parties…"
(for more about this project visit the Bates Masi site here and click on INFO.)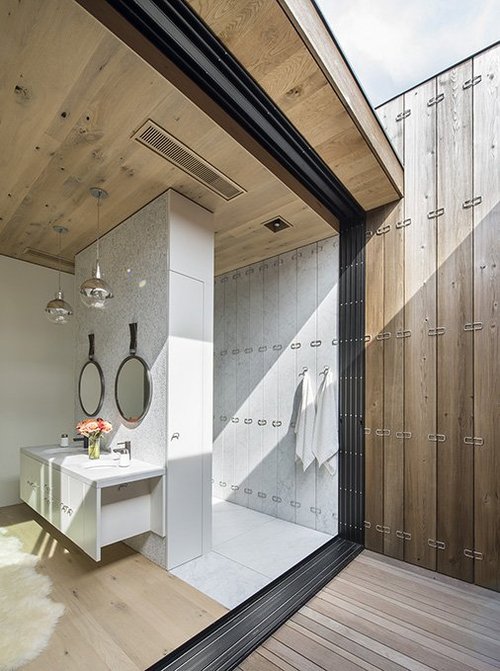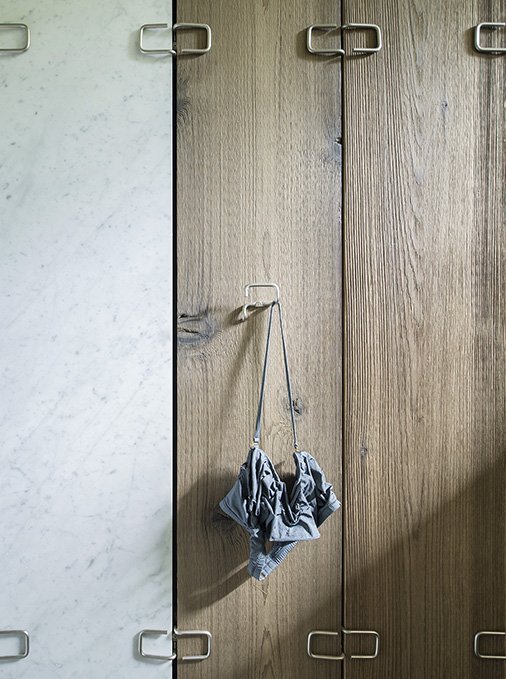 We're also adding a few more details below from other Bates Masi houses…just to emphasize that "incredible attention to detail" part…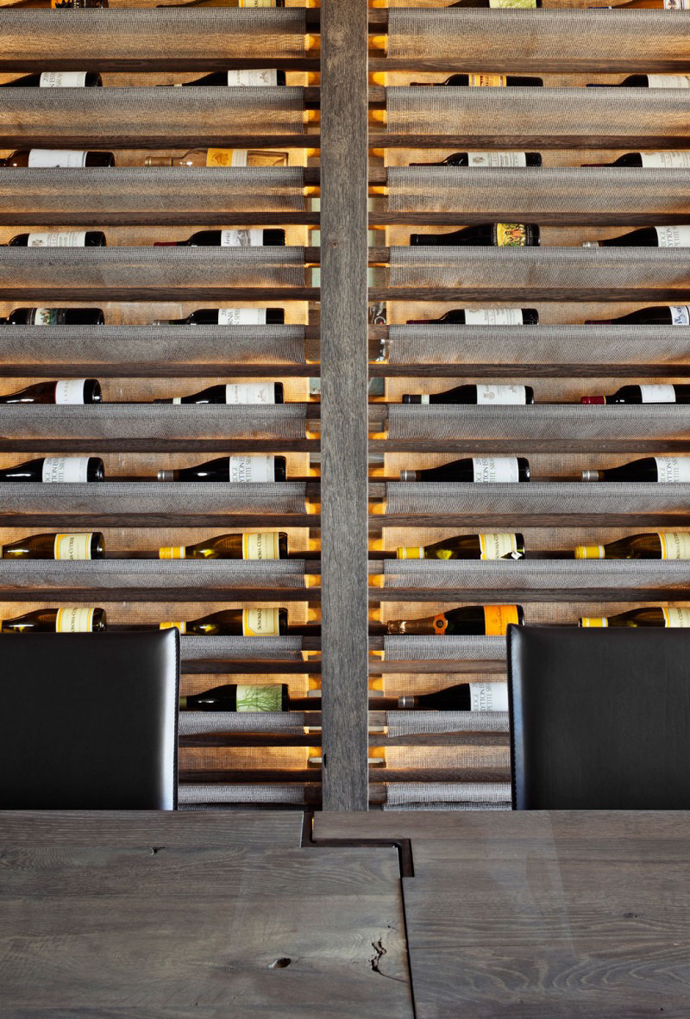 Sagaponack House by Bates Masi Architects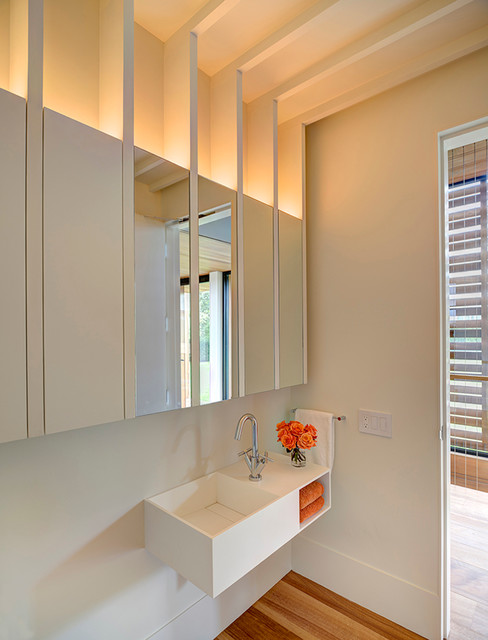 Mothersill Residence by Bates Masi Architects
No Comments