Is it just a stereotype that architects love math and puzzles? As it turns out, not in this office! One of our current projects is based on a perfect cube—I'm sure it's not hard to guess which one. For this week's post, I thought it would be fun to talk about how Cubed came to life and how the design has evolved as we've begun to do construction drawings for the house.
Site Mathematics
Cubed is located on a primarily undeveloped five-acre lot in the Hudson Valley. In walking the site, it was relatively clear where the house should be positioned: an old two-track road runs through the site and provides the beginning of a future driveway, while a slight hill increases the initial elevation for the house. In the interest of preserving the wooded nature of the lot, we needed a condensed footprint for the house–but we also wanted to provide views of the distant mountains. The logical solution to both of these parameters was obvious: we needed to build up instead of out. A square-ish hilltop, a small footprint, and a vertical direction—it seemed natural to give ourselves further parameters for designing the house—why not design a cube?

CUBED Diagram from Studio MM on Vimeo.
Puzzle Time
In addition to being challenged by length, height and width, we wanted to preserve the flowing and open living spaces that are a hallmark of contemporary living—and of our prior projects. As we began to determine appropriate sizes and layouts for various spaces in the house, we found that a double height living room space would form a cube within a cube. This didn't just strengthen our approach and intensify the cube challenge—it encouraged us to create a fantastic open space that served as the central gathering space within the home. The double height ceiling creates a space that feels grand while being economical in its footprint. As a result, our exterior cube began to contain smaller cubes: the living room, entryway and master suite deck.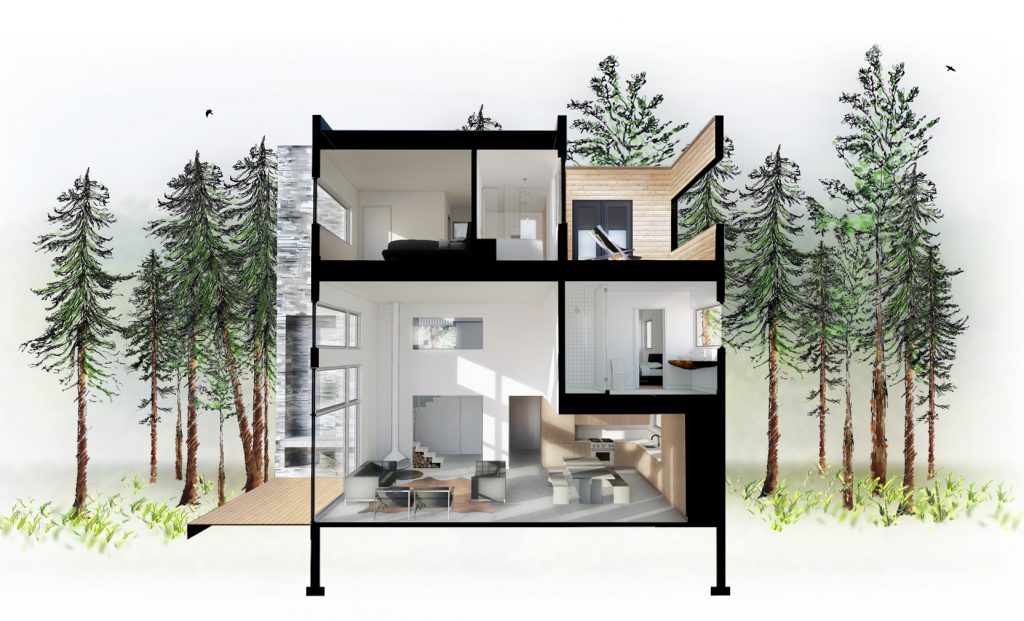 Material Logic
After finalizing initial floor plans and building a number of models to determine overall shape and orientation for the house, we began to think about how to accentuate the interior cubes within the larger volume and how to express the interior floor plans on the exterior of the structure. To ensure consistency of concept, window placement was based not only on sunlight and mountain views, but on a number of interior datums. Clean lines throughout the house help to elevate the modern design. We chose to use a dark siding on the majority of the house, but the pockets of space that were created by the deck and entryway will be clad in a lighter wood, pulling guests into the house and creating a more intimate space for the master suite.
Refining for Structure
As with most of our projects, we designed with attention to the structural integrity of the house, but knew that we would need to refine and adjust the design as we finalized the mechanical and structural components. Since we are a relatively small office, all of us tend to work on each project. Of course, each of us has our own skillset—so we like to pass projects back and forth depending on the stage and work being done. Going from a developed design to construction documents that incorporate structural drawings from engineers is one of the biggest transition moments—and where the focus really shifts from working in large moves to focusing on tiny details. Naturally, this means the project tends to leap from one desk to another—so there are many conversations and discussions about how plans need to be adjusted to accommodate technical elements.
design meeting CUBED from Studio MM on Vimeo.
With Cubed, we chose to mock up a theoretical option for the structure of the building in our own modeling software so that we could hold conversations with engineers in a well-informed manner. This was just a starting point—but it helped us thicken walls for plumbing, relocate a closet to accommodate steel beams, and make a three story stair feasible within our budget. For Cubed, we are still working on the drawings that accompany this type of model—detailing a project takes a lot of time and effort. It isn't just about how to build the house that has been designed—thinking through the details means there are still a lot of design decisions to be made. How does the drywall meet the edge of the window? What additional support does the wall behind a cantilevered sink require? How does the edge of a wood floor meet the tile in the bathroom? These are the types of questions that we have to ask—and provide answers to for our contractors.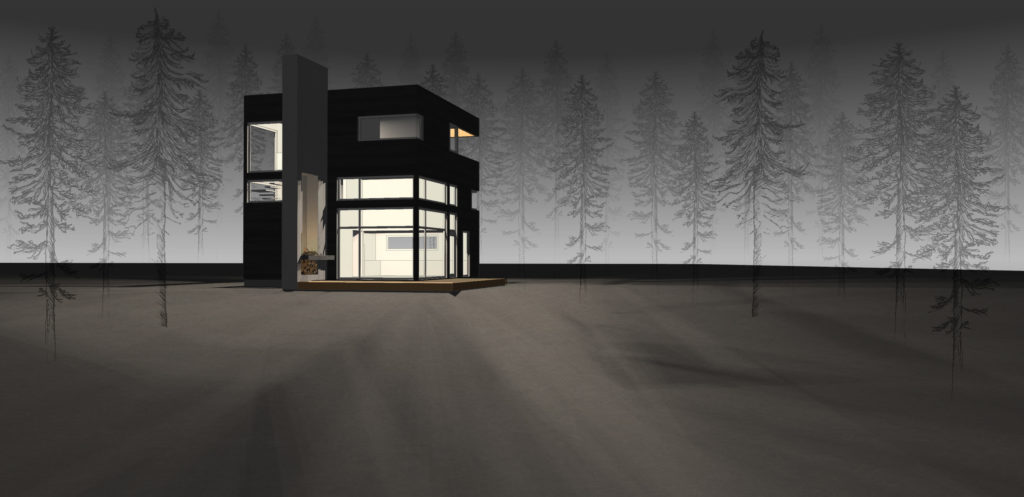 Staying True
As we move through the design process for a project, it's important for us to stay focused on our initial goals. If the details we design don't accentuate the original "big idea" for a project, then they aren't the right details. Efficiency of budget and materials is of course a large part of working through a project—but we always strive to make sure that the compromises we make will ultimately serve the project best. As we continue to refine and draw details for Cubed, we have the same goal: to retain the defined parameters while best serving the client, the site and the design.
Today's post is written by Marisa Kaugars.
No Comments